Welcome to our review of the new 2nd version of the Wireless Doorbell By Tenswall.
We are reviewing a large number of wireless doorbells to see which options are the best!
Brighten up your home with this fantastic little wireless doorbell which is fairly new to the market too!
It has all the usual things you expect from a wireless doorbell kit but with something new…
This has 9 kinds of LED flashing light options! That makes it a great option to those who are hard of hearing or to those of us that like to switch the chime off and watch it flash, knowing you are just not going to get up and answer it. Because I am enjoying peace…
Just me then…..
Let's move onto the review!
---
Wireless Doorbell By Tenswall 2nd Version – Details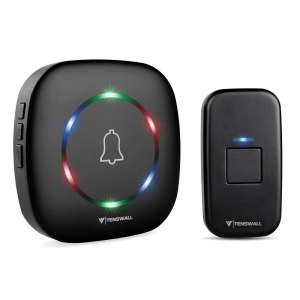 ---
What You Get In The Kit
Push Button (Transmitter) x 2
AC Chime (Receiver) x 2
Screwdriver x 2
Screws x 2
Double-Sided Adhesive Tape x 2
12V 23A Battery x 2
Manual x 1
---
Distance
This wireless doorbell kit has a full range of 1000 feet, 300 meters.
For most living arrangements, that distance is excellent. Obviously, with obstacles in the way, that distance is reduced.
We have discussed an average working range v full range, and in there, we worked out the actual working range is going to be around 50%. In all honesty, that is more than sufficient!
---
Melodies
There are 58 different chime choices with this wireless doorbell kit.
I am sure you will find one that doesn't annoy you for too long!
Feel free, though, to annoy people around you by taking a while to choose between the chimes! You may be old enough to remember early mobile phones…I am sure we all had that friend who wanted you to listen to all the ringtone choices.
Time for payback!
---
Weather Proof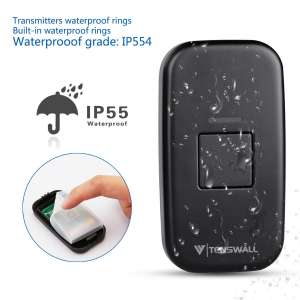 The push-button is rated IP55 Waterproof. What does that mean?
Courtesy of this useful IP rating page:
IP55 – Protected from limited dust ingress – Protected from low pressure water jets from any direction.
So basically, it is rainproof, but if you need to clean it, think twice about using your pressure washer!
If you need more information on waterproof wireless doorbells or a more in-depth look at the ingress rating system, we have a post for you!
---
Installation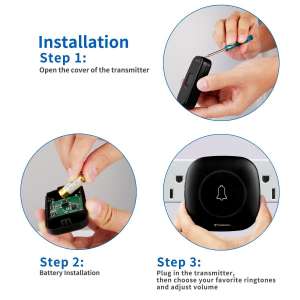 ---
Warranty
Tenswall offers a standard 1-year warranty for this wireless doorbell.
Not only that, but they also offer a 100% money-back guarantee if you are not satisfied!
---
Conclusion
We think the Wireless Doorbell By Tenswall is a fantastic wireless doorbell!
Tenswall has many different wireless doorbell options on the market. Some have even made it onto our best doorbell list.
Having said that, now this one has been released, we need to re-check the options!
Tenswall 2nd Version Wireless Doorbell
Melodies -

87%

Warranty -

90%

Waterproof -

92%

Volume -

81%

Range -

87%
Summary
The Tenswall 2nd Version Wireless Doorbell is a fantastic choice if you re looking for a wireless doorbell for the hard of hearing. The LED's will certainly be seen when you have a visitor! The only negative thing about this solution is the push button, we are not keen on the way it looks but it works just fine!