For years, installing lighting and security cameras in a home has been quite an expensive endeavor. It required some extensive wiring for lighting and camera connectivity, dig trenches, and build a control system for the cameras. The Ring Stick Up Cam comes as a solution to these challenges, providing users with a battery-operated, cheaper, and easy-to-install option. The Ring Cam is a versatile camera that you can use both outdoors and indoors. Read on for a detailed Ring Stick Up Cam review.
---
What you will learn in this review post:
How good the Ring Stick Up Cam is
Key features of the camera
Any negative points about the camera
---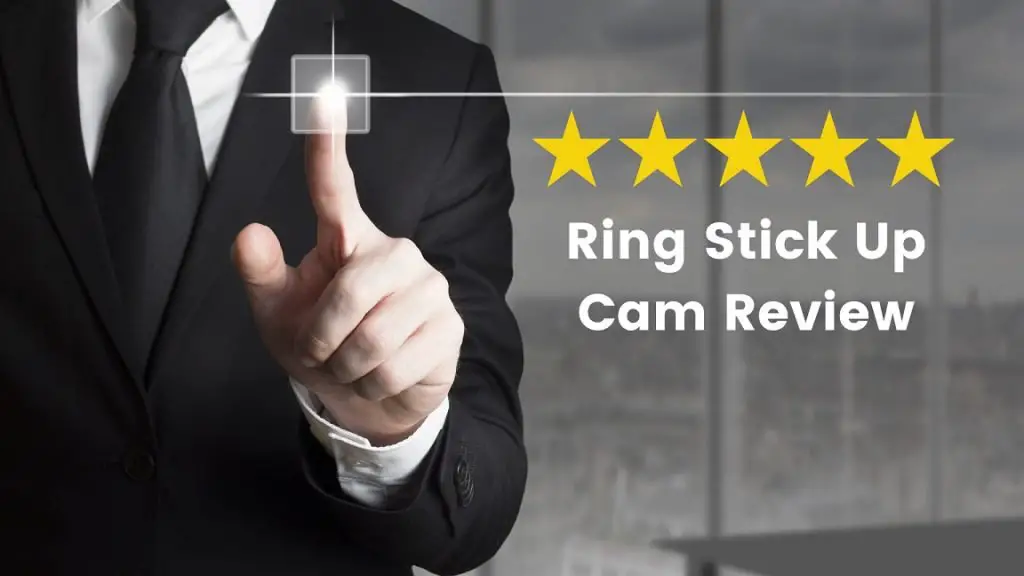 ---
Features of Ring Stick Up Cam
The unique features of the Ring Stick Up Cam have made it easy for you to connect your home with smart cameras and lights. Some of these features include the following;
Built-in Stand – The Ring camera system has a flexible, built-in stand that facilitates versatile mounting. It allows you to install it in an inverted position or place it on a shelf. The stand is also flexible for positioning against a wall.
Two-way Microphone – This feature enables you to communicate with a person near the camera via your phone.
Customizable Motion Detection – The Ring camera system connects to the Wi-Fi network of your home, enabling you to receive notification alerts when motion is detected. The motion detection feature is customizable, allowing you to adjust the timing and range of motion detection.
Removable Battery – The Ring comes with two sources of power, including a solar panel and a removable battery pack. Ring Stick Up Cam battery can run for as long as 6 to 12 months, and you do not need to unmount the camera to charge the battery.
Video – Ring Stick Up camera shots in 1080p HD, with a live view of 130 degrees. The camera also comes with an infrared night vision that enhances clarity in the middle of the night. One thing that stands out in Ring's camera is that its LED sensors are designed so that only you are aware of its presence.
---
Ring Stick Up Cam Review: A Reliable Home Camera System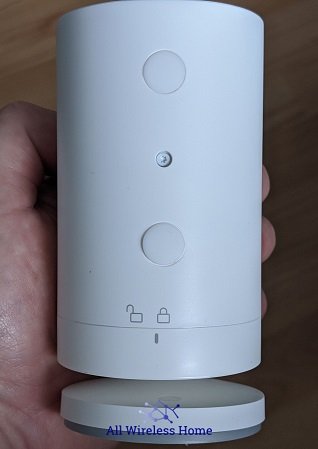 Before we begin with the Ring Stick Up Cam review, I wanted to let you know that I actively use these cameras around my home. I have no issues with them whatsoever. In fact, I cannot recommend them highly enough! OK, on with the specs…
Specs
The specifications of Ring stick Up Cam include the following;
Camera Resolution- 1080p
Connectivity- 802.11 b/g/n 2.4 GHz Wi-Fi
Field of view- 110° horizontally, 130° diagonally, and 57° vertically
Generation- 3rd generation of Ring Stick Up Cam
Dimensions- 60mm by 60mm by 97mm or 2.36 in. ×2.36 in. × 3.82 in
Audi- 2-Way talk, enabled with noise cancellation capabilities
Operating Conditions- 50°C to -20°C
What comes with the box?
Stick Up Cam battery security system
Quick-release battery pack
User manual
Wall anchors
Micro USD charging cable
Screws
Security sticker
---
Design
The new generation of Ring Stick Up Cam comes in a sleek cylindrical design with more improved aesthetics than the other Ring versions. When mounted with a stand, Ring Stick Up Cam is 4.9 inches tall, with a width of 2.3 inches.
The camera's stand is designed for mounting on a wall, soffit, ceiling, or use on a desktop. It is easy to see the rechargeable battery pack of the camera by twisting its base.
---
Waterproof and Temperature Rating
The Ring Stick Up Cam has a weatherproof rating of IPX5. This means that the camera is protected against water sprinkles from any direction.
The third generation of Ring Stick Up Cam is also designed to function at temperatures ranging from -20°C to 50°C. Within this range, the camera is weather-resistant and an excellent cold weather security camera!
---
Camera Rating and Quality
The new Ring Stick Up Cam has the highest camera quality compared to all the other Ring generations. It is awe-inspiring and is one of the key callouts from this Ring Stick Up Cam review.
The camera shoots video in 1080p HD, displaying sharp detail and excellent color quality. The camera also shoots a sharp detail of night vision video in black and white.
Motion detection works perfectly without any noticeable pincushion distortion.
---
Audio Rating and Quality
The quality of Ring Stick Up Cam's audio is way higher than the other Ring cameras. The two-way audio design of Ring Stick Up is designed with an inbuilt speaker and microphone.
The audio is perfectly clean, allowing you to capture voices without sound hitches.
The internal siren of Ring Stick Up Cam is also quite loud. You can mute the speaker if you do not want to hear the background sound at a given time. It is one of the best cameras with an inbuilt siren.
---
Mobile App
Ring Stick Up Cam uses the Ring mobile app like every other Ring device. This app provides you with a platform through which you receive notifications, view cloud storage, live stream footage, and communicate through two-way audio.
With the Ring app, you can also make changes to your camera settings. Ring app also supports another Ring app from your neighbor, allowing you to share or receive images or videos captured by the neighbor's Ring app.
---
Warranty
Ring Stick Up Cam comes with a limited warranty and service of one year. The warranty provides users with a free replacement and repair service for the camera in case of malfunction resulting from defective parts and quality.
However, The Ring Cam warranty does not cover various conditions, such as damage from unauthorized services, negligence, abuse, and misuse.
---
---
In Conclusion
That concludes the Ring Stick Up Cam review!
The Ring Stick Up Cam is a solution to the traditional security systems that take up plenty of resources and time to install. You can mount it on your desktop, against the wall, or on a ceiling, considering its flexible stand and design.
The Ring Stick Cam is also fit for outdoor and indoor spaces, as it is weather-resistant and has high video quality. The two-way audio of the camera will enhance communication with your loved ones or anyone near the camera.
You can even review everything you missed through the Ring Protect Plan, which reminds me that no Ring Stick Up Cam review is complete without mentioning how easy it is to use the Ring Protect Plan! It is cheap too, and something that you should definitely check out.
Good luck!
---
An excellent, easy to integrate security camera with tons of features for an excellent price!