Welcome to the 1byone Easy Chime wireless doorbell Review!
This 1byone model is the best portable wireless doorbell, due to the exceptional quality and fantastic price, with no need to plug the chime in, making it totally portable!
The 1byone is an unbelievable price for what you are getting, a feature-rich wireless doorbell that you can rely on.
---
1byone Easy Chime Wireless Doorbell Review – Details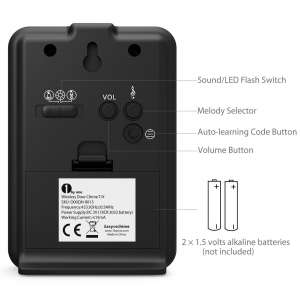 ---
What You Get In The Kit
1 x Receiver
1 x Doorbell
1 x 3 Volts CR2032 battery for Doorbell
3 x Wall Plugs
3 x Screws
1 × Adhesive backing
1 x Instruction Manual
Considerations
Do you really need the portability option?
I do not, and I would rather have a chime that plugs into a power socket mostly because I do not like having to change batteries when I could plug it in and forget about it!
---
Distance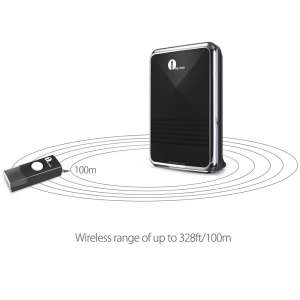 The working range is 300 feet (100 meters).
As normal, you need to be aware of anything that may be in between the chime and the push button.
You may not get the full 300 feet. Having said that, for most homes, 300 feet is plenty!
This wireless doorbell comes with frequency blocking technology, which means the other wireless devices in your house should not interfere with the signal.
---
Melodies
There are 36 (CD Quality) sounds to pick from (including a birdsong!).
The volume is adjustable, and the range is 25dB – 80dB. It is one of the loudest available, which reduces the need for additional receivers.
---
Weather Proof
The 1byone push button is IP44 rated, which means it is protected against splash from all directions.
This basically means you can use out it in the rain without the fear of water damage!
In terms of the operating temperature, the 1byone will work in the following range: -30℃ to +40℃.
Ultimately, it is durable and will still function in harsh, cold climates!
---
Installation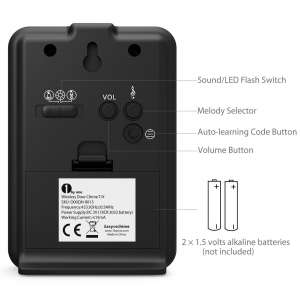 The installation is so easy! Screw the wireless doorbell chime onto the door frame using screws or adhesive tape.
The chime is battery-powered, so it will not need to be plugged in to use.
If you want to add additional receivers, press the auto-learning button, and it just works!
When you set up the chime, you can either have sound only, LED flash only, or both sound and LED. Just use the slider on the back of the chime to set your preference.
---
Warranty
The 1byone comes with a 12-month warranty and 30-day money-back guarantee.
If you are not happy with the product, for any reason, you can return it (undamaged) within 30 days.
If you need support, you can contact them at ushelp@1byone.com, and they will reply within 1 working day. You can also contact them at 1byone.com/support.
---
Conclusion
The 1byone is one of the best portable wireless doorbells!
Think, though, that you may love the fact that it is totally portable or may not even need it. For my wireless doorbell, I really do not need to walk around the house with it! When the chime is as loud as this one is, you can hear it pretty much anywhere.
Having said that, if you have a large back garden, I can see the need for a more portable option. If that is the case, then this one is for you!
If you are looking for a wireless doorbell where the visitor pushes a button, and you get an audible alert, you really cannot go wrong with this option.
After something with a bit more integration and maybe video integration, I highly recommend checking out the Ring wireless doorbell 2 reviews.
Have you got a 1byone Easy Chime wireless doorbell? Have you had any problems with it? Please contact us or leave a reply below.
1byone Easy Chime Wireless Doorbell
Melodies -

80%

Warranty -

87%

Waterproof -

70%

Volume -

87%

Range -

70%
Summary
The 1byone wireless doorbell is a very good, and cheap wireless doorbell. It is a great choice if you are after a dependable and loud wireless doorbell. You also have the option to purchase a battery-powered receiver if you need to carry it around with you!