Some of the wireless doorbells on this page can operate at over 1300 feet!
But do you need it to work over that distance? I am guessing yes.
Here we take a look at the best long-range wireless doorbell for those of you who do need it!
We recommend…
Avantek Wireless Doorbell – 1,300 feet Range!
This Avantek option will work at over 1,300 feet! That is one long-range wireless doorbell system.
---
5 Best Long-Range Wireless Doorbells
---
1. Avantek D-3B Long Range Wireless Doorbell
This is the first of the Avantek wireless doorbells if you need a long-range wireless doorbell.
I will be honest; there is no considerable difference between the top 2 because they are all made by the same company!
The D3-B was picked because it looks the best and is more up-to-date than the other Avantek options.
The range on this doorbell is long! It is over 1300 feet; now that is some distance, right?
Not only does it have a range of over 1300 feet (if there is nothing in the way), you can increase the volume to a maximum of 115dB, which is fantastic because these ultra-long-range doorbells need to be heard.
Rain is not a problem either because the push button is rated IP55, which means you can spray it with water from any angle, and it will not break it. Perfect for heavy rain.
While we are on the subject of weather, the operating temperature range will cover you as the doorbell is rated to work between -20°C and 60°C (-4°F and 140°F).
The Avantek D3-B has an LED on the front of each chime, which means it is a good option for hard-of-hearing.
---
2. Avantek DB-21 Wireless Doorbell
The DB-21 is a classic and is very highly rated. Similar to the D3-B, it is a compact yet long-range doorbell you need to consider…
In terms of features, it is almost the same too. A quick rundown reveals:
The DB-21 is another excellent, highly rated option if you are looking for a long-range wireless doorbell because it is rated to work at a distance of over 1300 feet (without interference), AND the volume can be pushed up to 115dB, so hearing it will not be a problem!
With a push-button rated at IP55 and works in a temperature range of -4 °F to 140 °F, you can be sure that it will work in hot AND cold climates, with the potential of some hefty rain showers!
---
3. Novete Long Range Wireless Doorbell
Ok, we will take a second break from the Avantek wireless doorbells to check out the long-range option by Novete.
Similar to the Avantek options, the Novete is also rated to work at over 1300 feet. If the distance is what you need, then you will get it here! The range on this doorbell is long.
Not only does it have the same distance capabilities, but the Novete also shares the following functionality as the Avanteks:
115dB maximum volume
IP55-rated push button
Temperature range of -4 °F to 140 °F
Another great option for long-range and hard-of-hearing (loud receiver – check. LED flash – check!)
The Novete is well worth checking out! Not only is it one of the best long-range wireless doorbells, but it is also an excellent waterproof option too.
---
4. Coolqiya Wireless Doorbell
The Coolqiya wireless doorbell is an excellent choice! Although it does not reach the 1300 ft that the top 3 doorbells on this page do, it is not far off, with a range of around 1000 ft.
This Coolqiya wireless doorbell features heavily on this site simply because it is bulletproof. It is the jack of all trades!
Let's have a quick rundown of the features:
Long-distance (1,000 feet)
50+ chimes to choose from
Waterproof
4 Volume levels
Safe (CE, FCC, RoHS certified)
Easy to install
The only reason it is 4th and not 1st is that it does not reach the same range as the Avantek. Even still, 1000 ft is long-range enough for me!
---
5. Physen CW Doorbell
The Model CW by Physen is another doorbell that features heavily on this site.
It is versatile, and that is what we love about this doorbell. Aside from being a good doorbell for most options (no video), it is also very reliable.
Being IP55 rated, the Physen CW is waterproof and cold weatherproof to boot!
CE, FCC, RoHS certified
1,000 feet operating range
4 Volume levels
52 Chimes
---
Reasons You Need a Long-Range Wireless Doorbell
To make this a complete guide for choosing a long-range wireless door chime system, we need to look at some of the reasons you might need to use one. With that in mind, let's take a look!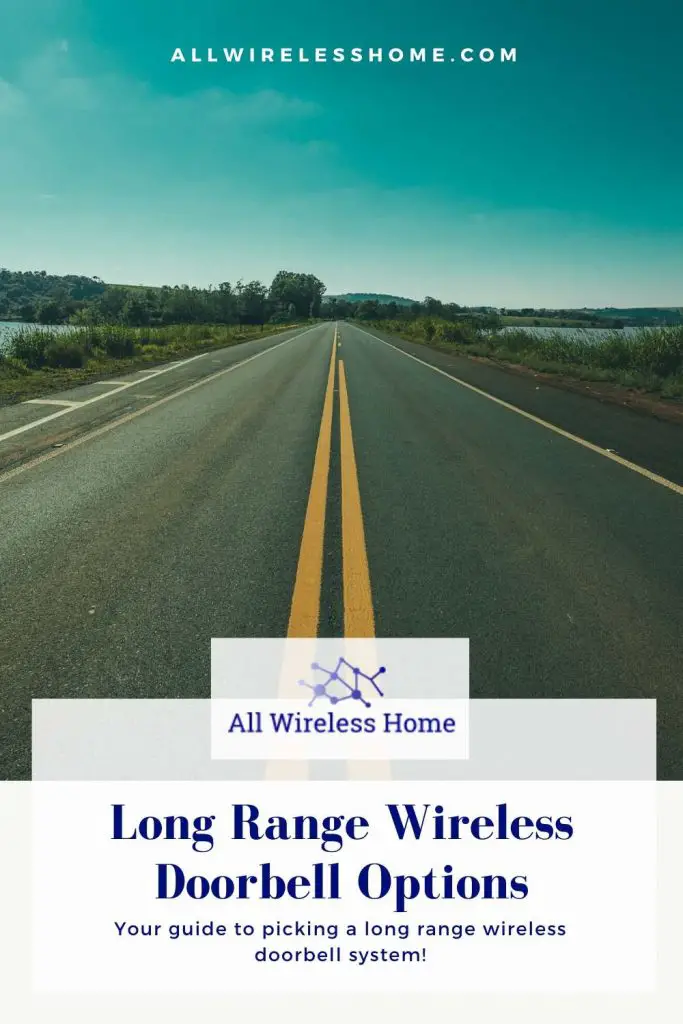 ---
1. You have a big house
It goes without saying that if you live in a big house, you will need a loud wireless doorbell that can work over a long enough range.
Luckily (or maybe not), my house is not big enough to need a loud or long-range wireless doorbell! Maybe one day, I will need one for the West Wing!
---
2. Your office is in the garden
A friend of mine works a lot in his garden. I am unsure if he chose that working arrangement, or maybe it was his wife! He does type rather loudly.
He chose to go with the Ring Video Doorbell 2 simply because he wanted to check who the visitor is before walking to the front door and because it comes with lifetime theft protection!
When you consider that all you need is a doorbell on WiFi and a smartphone, the range is almost endless, right?
If he decided not to go for video integration, he could have gone for one of the options on this page instead.
---
3. You live in an apartment
Ok, I know most apartment blocks already have an intercom system that can remotely open the front door so visitors can enter the apartment building. But, some apartment blocks do not have an intercom system.
You may even be tasked with setting up a wireless doorbell system.
In an apartment block, you will certainly need a long-range solution and one you can rely on.
---
What is the Range of a Wireless Doorbell?
The answer to this question depends entirely on which make and model you opt for.
Some doorbells have a range of 300 feet. Some (such as the long-range options on this page) are rated to work at a distance of over 1300 feet!
Some options advertise 'long-range,' but they are not.
When shopping for a long-range doorbell, you should go for one that advertises a range of at least 900 feet.
---
Conclusion
There you have it. If you have a big house, live in an apartment, or do a lot of work in your garage, you now know the best options for a long-range wireless doorbell.
It is well worth considering that although the advertised range is clearly defined, the doorbell companies can't advertise the actual working range because they are unaware of the interference at your property.
When I say interference, I mean walls, other electrical items, wiring, etc. All of these things can impact the range of operations. That said, these long-range wireless doorbell options do work over a large distance.
More details can be seen in our post for troubleshooting wireless doorbells and detailed in our full range v working range post. It is essential to know the operating range for any wireless device, doorbells included.
Ultimately, the long-range wireless doorbells with a bigger advertised working range will have a more powerful transmitter. Therefore the ACTUAL range (when faced with interference) will still be bigger than the run-of-the-mill wireless doorbells.
Good luck with whichever option you go for, and if you have any issues with any of the wireless doorbells on this page, please let us know.
You can also look at our wireless doorbell review page to check other options or even these wireless doorbell options.