Welcome to the TeckNet Wireless Doorbell review!
The TeckNet Wireless Doorbell is a cheap, great-looking wireless doorbell that is waterproof and a great option if you are hearing impaired.
They also offer a TeckNet Wireless Doorbell with 2 receivers if you need more than one.
View On Amazon
---
TeckNet Wireless Doorbell – Details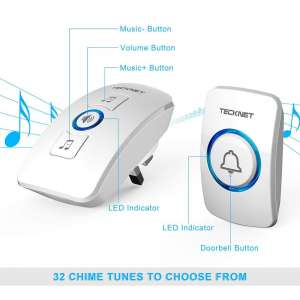 ---
What You Get In The Kit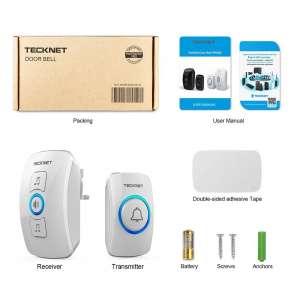 Receiver x 1
Transmitter x 1
Manual x 1
Screws x2
Anchors x2
Adhesive
Battery x 1
---
Distance
The range can reach up to 1000 feet with no interference. According to the manufacturer, the distance can reach 800 feet in a real-life situation, which is still plenty.
You must consider what kind of interference you will likely have between the wireless push button and the receiver. How many walls do you have in between? How many electrical items? What about other wireless devices? They will also cause interference.
It is a good option if you are looking for a long-range, but there are better long-range wireless doorbell options.
---
Melodies
The TeckNet Wireless Doorbell has 32 tones to choose from and 4 volume levels.
The 4 levels range from 25dB to 85dB in terms of volume, so it is not the loudest wireless doorbell but loud enough for most homes.
---
Weather Proof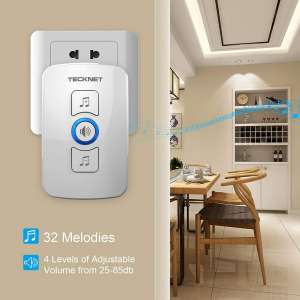 The ingress protection rating is less than other wireless doorbells. Sure, it is a great-looking wireless doorbell, and the TeckNet Wireless Doorbell is likely to withstand a downpour, but if rain is common in your climate, then you will need a better waterproof wireless doorbell.
---
Installation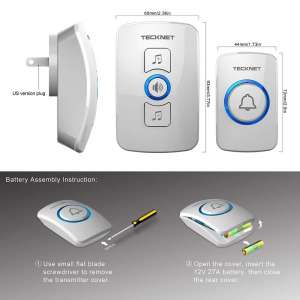 Installation is very, very easy.
Plug the receiver into a power socket, and match the receiver to the wireless doorbell chime before sticking (or drilling) the push button to your doorframe.
It is that easy!
The push-button requires 1 23A 12v battery if you even need a replacement. More details about which wireless doorbell needs which battery can be found here.
No battery is needed for the receiver as it simply plugs into a power outlet.
---
Warranty
The TeckNet Wireless Doorbell has an excellent 18-month warranty.
With an 18-month warranty, you can be sure that you are buying a quality wireless doorbell.
If you choose the TeckNet Wireless Doorbell, you will also receive free lifetime customer support on the product.
*We have had reports from a user regarding the TeckNet customer service team. "Their customer service team is non-existent" This user had issues with the push button. You can see the full comment in the comments section below.
---
Conclusion
While reviewing the TeckNet Wireless Doorbell, we found it an excellent, cheap wireless doorbell option that looks great and has some fantastic features.
The only drawback is the waterproof rating. Wireless doorbells tend to have IP33, IP44, or IP55 waterproof ratings at the lower end of the scale. So again, if you need a wireless doorbell with a higher waterproof rating, other options are available.
Check out our favorite wireless doorbell options.
Do you have a TeckNet Wireless Doorbell? Have you had any problems with it? Please get in touch to give us your story or leave a message below.
TeckNet Wireless Doorbell
Melodies -

80%

Warranty -

96%

Waterproof -

60%

Volume -

60%

Range -

80%
Summary
The TeckNet wireless doorbell is a great looking piece of kit which is let down only by the waterproof rating. If you are after a reliable, cheap wireless doorbell then the TeckNet is a good option. If you are looking for a wireless doorbell that will withstand torrential rain, check elsewhere!