Following our best wireless doorbell list, we put together an article to give you the options available if you want one of the best wireless doorbells with video integration!
There are plenty of options available, and many of them are fantastic options for beefing up home security too. All the options on this page have a mobile application, so you also have an excellent, totally portable wireless doorbell solution!
Wireless Doorbells With Video Integration – Top 3
Wireless Doorbell
Features
Video Quality: 1080p
Mobile Apps: iOS/Android
Night Vision: Yes
Motion Sensors: Yes


View On Amazon

Video Quality: 720p
Mobile Apps: iOS/Android
Night Vision: Yes
Motion Sensors: Yes


View On Amazon

Video Quality: 720p
Mobile Apps: iOS/Android
Night Vision: Yes
Motion Sensors: Yes


View On Amazon
---
5 Best Wireless Doorbells With Video Integration
---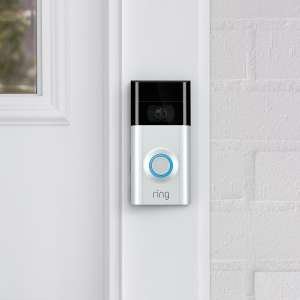 What can I say about the Ring Video Doorbell 2 that I haven't already said in:
I'll give you a rundown of the features, so you can see why this is the best wireless doorbell with video integration.
Works with Alexa? Yes.
1080 Video quality? Yes.
Mobile App? Yes.
LIFETIME THEFT PROTECTION? YES!!!!
This is a fantastic option packed full of excellent features, but Ring also offers lifetime theft protection. If it gets stolen, they will replace it for you!
Outstanding.
I also love that you can set up zone detection to double up as a home security system. One of the product features includes LiveView, which allows you to remotely log in to the Ring doorbell to get a live view from your front door.
It is weatherproof and will work within the following temperature range: -5°F to 120°F (-20°C to 50°C).
Extras include a wifi Extender, Chime, and Bracket!
---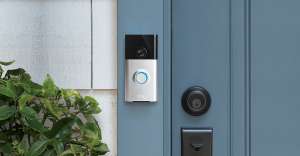 This Ring Video Doorbell hits the top spot on this list!
It is quick and easy to set up, has 2-way voice communication, and comes with lifetime purchase protection! If it gets stolen, they replace it for free! What a cracking deal!
The video doorbell can be powered by your existing doorbell wiring or a rechargeable battery.
Access to the doorbell comes in an app, which can be used wherever you have a signal.
So no more missing visitors to your home!
Not only is this an excellent video doorbell choice, but you also get the added security of a motion detector, giving you alerts if there is movement outside your door.
---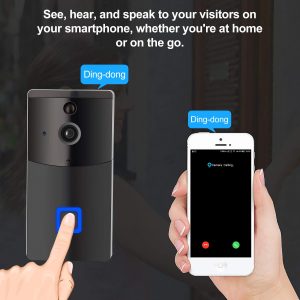 Monitor and share your device with other family members so they can help keep an eye on visitors to your home. This wifi video doorbell option can be seen as an extension to your wireless home security!
When a visitor presses the doorbell button, your mobile device (assuming you have the app) will alert you. If you are out of the house, you will communicate with the visitor using the 2-way talk from your mobile device.
A 720p camera with a 166° wide-angle lens will capture all visitors to your home, whether you are at home or not.
Features include:
720p video
Two-way audio
Motion sensors
Mobile app (Android and iOS – search for Anybell)
Smart night vision
The wireless doorbell pushbutton works with rechargeable batteries, so you do not have to wire it into your existing doorbell cables.
This video doorbell has received some excellent feedback for an entry-level wireless doorbell at a fraction of the cost of one of the more expensive options from Ring.
As part of the doorbell kit, you will also receive a plug-in receiver to back up the mobile notifications you will get when a visitor calls.
This must be considered if you want a cheaper wifi video doorbell.
There are some drawbacks, though, as you would expect from a more reasonably priced video doorbell, and they are:
It only works with 2.4Ghz wireless connections
The storage card is not included
---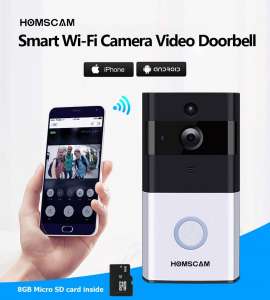 The feature-packed HOMSCAM Video Doorbell comes with two-way audio, motion sensors, and night vision.
An app is available for Android and Apple, so you can check for visitors.
With this doorbell comes a 1-year warranty and also has lifetime purchase protection. So if your doorbell is stolen, they replace it for you!
Motion detection is a welcome security feature too.
---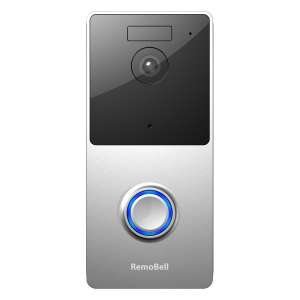 Another excellent and cheap wireless video doorbell from RemoBell.
You can easily see why this is a recommended wireless video doorbell with excellent reviews on Amazon and a fantastic set of product specifications.
You can use the app on your mobile phone to receive push notifications from anywhere in the world. Total portability!
The 120° viewing angle can be used (alongside motion detection) as a fantastic security camera for your front door, giving you extra peace of mind when you are not at home.
6 AA batteries power the doorbell unit, so you know it will last! Also, replace them with more AA batteries when they are low. There is no need to remove it from the door and recharge it.
Oh, and you also get lifetime theft protection!
---
Reasons You Need a Wireless Doorbell With Video Integration
1. Security
If I were asked me an elderly relative to suggest a doorbell, I would recommend they purchase a doorbell with video integration.
Even if it does mean they call me up every time it rings because they can't remember how to use it!
Knowing who is at your door increases your home's security and protection.
2. Total Portability
Video integrated wireless doorbells usually have a mobile app too. That means you can check who is visiting your home from practically anywhere in the world. That brings a whole new meaning to the word portable!
3. You Are Hard Of Hearing
Although there are some great options for the hard of hearing, having push notifications sent to a mobile device is a great way to know if you have a visitor.
You can set your mobile phone to vibrate when there is a visitor.
4. wifi Enabled
Some excellent doorbells connect up to your wifi too. These solutions will allow you to check visitors to your house or even the home of an elderly relative from afar!
There are also options to buy wireless doorbells that record straight to the cloud when pressed. So even if you are not in a position to check from afar, at least you know they visited you.
5. Laziness
Yup, I said it! Laziness.
I have a friend who works from home a lot. He has set up an office in his garden shed, which is at the bottom of his garden.
He decided to go for a doorbell with video integration, basically because he is lazy!
His wireless doorbell kit connects to his home wifi, and he can access the video from an app on his phone and a web browser.
When he has a visitor, his wireless doorbell chime (Next to him in his shed) will sound. He will then log into his phone to check who is at his front door.
Once he knows who it is, he can decide whether it is worth the walk to his front door!
6. For deliveries
This reason is rarely used, but it is still a reason.
I love ordering things on the internet! Guilty. 
That means I must be in when the delivery driver attempts to deliver, right?
Nope – I knock on my (Friendly) neighbor's door and drop the receiver off there.
They are kind enough to wait in for my delivery while I am off enjoying myself!
It is reciprocated, though. If I am in during the day, I'll take the mantle of 'parcel collector.'
---
Conclusion
So there are the best 5 doorbells with video integration. However, some options exist if you stick with a wireless solution.
Whichever you choose, I hope it works for your situation.
Good luck! If you have any feedback on any of the options here in this post, please get in contact or leave a reply below.