It is fair to say that I spend a lot of time looking at wireless doorbell options!
It was only a matter of time before my son wanted in, and I had to start looking for the best wireless doorbell for a kid's playhouse!
It did pose a few questions though…
We recommend…
Fosmon Wireless Doorbell
This Fosman doorbell is portable, and has some excellent tunes to keep your kids entertained in their playhouse!
---
What functionality do I need?
I say I NEED, but it isn't strictly true! What functionality will my son want for the wireless doorbell on his playhouse?
Fun tunes
Any playhouse doorbell needs to have lots of tunes to choose from! The tunes need to be fun, and there must be some Christmas tunes too!
Kids like big buttons. It looks more like a toy and is easier to use for little hands. So when searching for a product, you should select one with a big button!
Flashing light
Another thing kids like is pretty lights, so why not make sure it has a flashing LED?
One option on this page (From Honeywell) can change the LED color! Does your child have a favorite color? It is not a problem with Honeywell!
Battery-powered receiver
Ok, so this is one that I want! I want to install the wireless doorbell into his playhouse WITHOUT the need for mains electricity. Unfortunately, that only leaves portable, battery-powered wireless doorbells.
Durable
Anything that kids will use needs to be durable, right? You don't want a playhouse doorbell that is easily broken.
---
3 Best Wireless Doorbell Options For A Kids Playhouse
---
Fosman Portable Wireless Doorbell
This Fosman wireless doorbell has a large push button that will look awesome on your kid's playhouse!
This wireless doorbell option has a straightforward design and is excellent for a playhouse!
You can easily hook the receiver onto a wall using the screw provided, which means it has a place to stay and (hopefully) will not be moved outside to face the elements.
3 AAA batteries are needed for the receiver, by the way…the setup could not be any easier…. add the batteries, and you are done!
The push-button is the perfect size for small hands because it gives them plenty to aim at!
The push-button is also waterproof and rated to IP56, which is fantastic for rain.
The portable wireless doorbell receiver needs 3 x AAA batteries for power. As they are omitted, you will need to purchase the batteries separately.
It is a very cheap option, making it an excellent choice for a playhouse.
---
Honeywell Portable Wireless Doorbell
It is a little more expensive, but you can add your MP3 to this Honeywell portable doorbell as a ringtone for your kid's playhouse!
The Honeywell portable wireless doorbell is more expensive than the 1byone and the Fosman above, but you get to add your chime! If your child wants a playhouse doorbell, why not give them an option that allows any MP3 as the ringtone?
You can add your MP3s and the 8 wireless doorbell chimes already on the device. Speaking of chimes, the following are the 8 tunes you can choose from:
Ding Dong
Westminster
Bell
Fantasy
Piano
Marimba
Soft Alert
Smart Sax
The Honeywell looks much better than the other options on this page, and kids will love the halo LED because you can change the alert color. Something that most wireless doorbells do not offer.
The push-button is rated to IP44, which will work in all kinds of rain.
You can also add additional items to the Honeywell, which means you can have a push button inside your home to call the kids in!
---
1byone Easy Chime Portable
The 1byone Easy Chime is portable and has excellent tunes that your kid will love in their playhouse!
This is the wireless doorbell I have installed on my son's playhouse.
I also have the plugin version for home too!
It is one of the best, cheap, dependable wireless doorbells, and the portable option is perfect for a playhouse.
The 1byone has all the features you need:
IP44 rated push button – because it will need to be outside.
36 chimes, including Christmas music.
Portable chime unit powered by 2 x 1.5AA batteries.
LED flash, because kids love lights!
I have had my 1byone for over 1 year, and it works perfectly every time.
It is worth noting that the chime unit is not waterproof, so make sure it doesn't leave the playhouse, and make sure you fix any leaks!
---
1 more wireless doorbell option for you
There is one more option, but it is a little more expensive than the options above because you have to buy two separate things.
First, you will need a Starpoint Receiver and a battery-operated wireless doorbell receiver.
Then you will need a Starpoint waterproof transmitter because it must be protected from the elements!
These two will pair together to make a complete portable wireless doorbell for a kid's playhouse.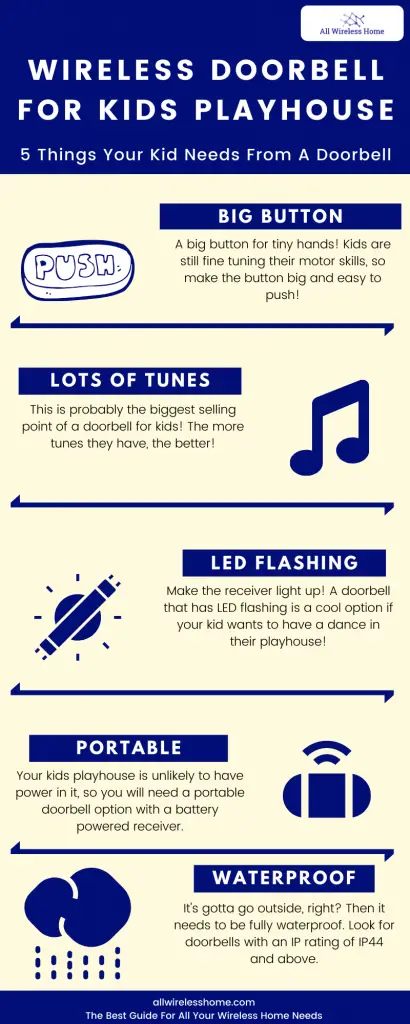 ---
How do you fit a wireless doorbell to a playhouse?
Fitting a wireless doorbell to a kid's playhouse is just as easy as fitting one in your home.
Stick or screw the push button onto the door frame and hang the doorbell receiver inside with a few screws!
Some portable witless doorbells have a bracket, which means you will have to fix that to the playhouse wall to hang the receiver.
Make sure you have the correct batteries for whichever wireless doorbell you choose!
---
Conclusion
The options above are the best if you are looking for a wireless doorbell for a kid's playhouse.
You can find some options here on our wireless doorbell review page.
Finding a good, portable, battery-powered wireless doorbell is challenging, so I can only recommend the 3 options above!
I have a plugin 1byone at home. It is durable, has great tunes, and is super easy to install.
My son loves going out and making deliveries, sometimes, I am the homeowner, and sometimes I am the delivery man! At least it gets him outside for some fresh air, and roleplay is an excellent confidence builder.
Have you added a doorbell to a playhouse? Which option did you opt for? Please get in touch or leave a comment below to let us know!