Welcome to the SadoTech Model CXR Wireless Doorbell wireless doorbell review!
The SadoTech Model CXR is one of the most popular and highly rated wireless doorbells on Amazon at the moment!
Let's find out why……
---
SadoTech Model CXR Wireless Doorbell Review – Details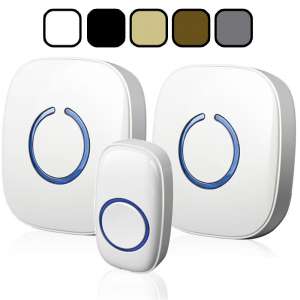 ---
What You Get In The Kit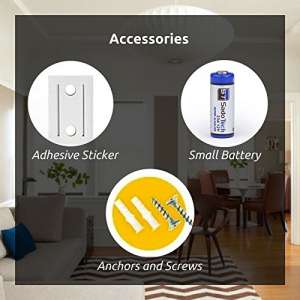 Chime x 2
Transmitter x 1
Manual x 1
Screws x2
Anchors x2
Adhesive
---
Distance
The range can reach up to 1000 feet with no interference. In a real-life situation, it is likely to get around 500 feet, which is still plenty.
You need to think about what kind of interference you are likely to have between the wireless push button and the receiver. How many walls do you have in between? How many electrical items? What about other wireless devices? They will also cause interference.
---
Melodies
The SadoTech Model CXR has 52 tones to choose from and 4 volume levels.
You can adjust the volume levels from 25dB to 100dB, which is more than loud enough….although there are louder options. If you need a louder option, then check out the Avantek D-3G Wireless Doorbell.
Whilst we are on the subject of chimes, you can actually hear before you buy! Take a trip to see the SadoTech Model CXR on Amazon and scroll down to the technical specifications. There are 4 documents you can download. You will need the specifications sheet. There are links to listen to all of the chimes!
---
Weather Proof

Here is where SadoTech can be improved. The push-button is only rated IP33, which is ok if you live in a climate where you only get a little rain. I would not trust it too much in heavy rain showers, though.
Don't panic, though. We have you covered if you need a waterproof wireless doorbell!
---
Installation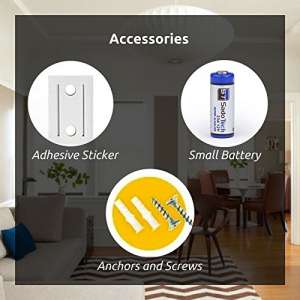 Installation is easy enough. Screw the push button onto your doorframe, or use the adhesive that comes with the wireless doorbell kit.
My preference is to use the adhesive because it leaves less of a mark if you ever need to replace it.
---
Warranty
SadoTech supply a 1-year warranty and 30-day money back guarantee with all of their products, so if you are not happy, then return it.
As with most 30-day money-back offers, it must be like-new…..as in you must not have used it!
---
Conclusion
The SadoTech CXR is a good, basic wireless doorbell. We can't help but feel let down by the IP33 rating of the wireless doorbell transmitter.
Although it is a good rating for dry climates, they can do better than that! There are better wireless doorbells available.
Having said that, it has an excellent rating on Amazon for a reason. There are thousands of happy customers, and we love the different color options available.
Have you got the SadoTech Model CXR Wireless Doorbell? What is your opinion?
SadoTech CXR Wireless Doorbell
Melodies -

87%

Warranty -

80%

Waterproof -

60%

Volume -

87%

Range -

80%
Summary
This is a classic, dependable wireless doorbell, which has so many satisfied customers on Amazon! It is a great option if you are looking to expand, or you would like a loud wireless doorbell. The only drawback is the waterproof rating, which is IP33. There are better options out there if you need a waterproof wireless doorbell.