With many smart home options, it isn't easy to know which ones will bring genuine improvements to your home and make your life a little easier.
Some are a fad! In this post, I will run through our top 10 home tech items that have made our lives easier and will make your lives easier. So let's take a look.
---
What this post is about:
10 of our favorite and most helpful home tech items!
---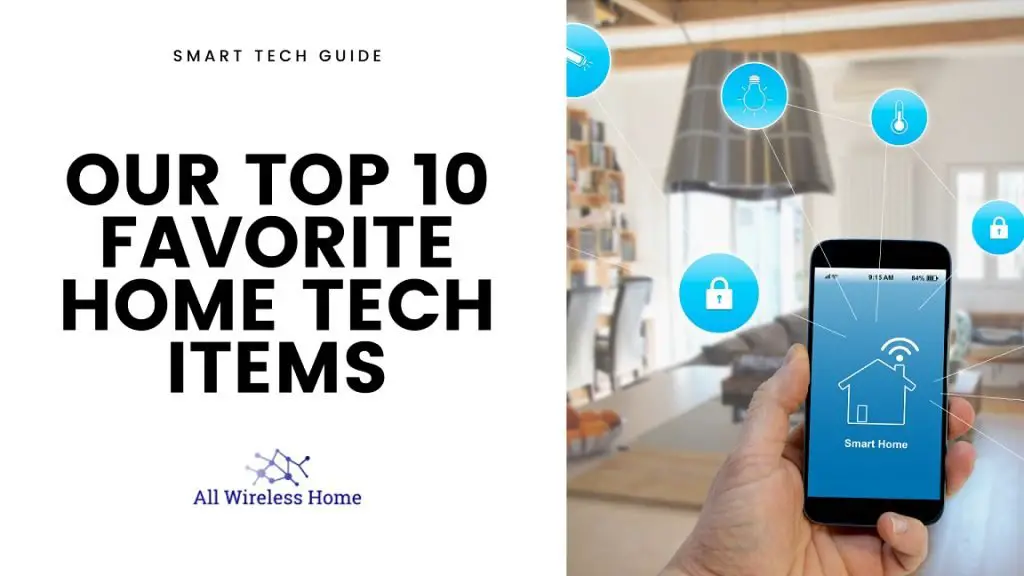 Top 10 Home Smart Home Tech Items
---
Video Doorbell
A video doorbell tops this list! It is one of the smart home products that is used daily.
I have the Ring Video Doorbell 2, which gives me everything I need from a doorbell. Before that, I had a regular doorbell, and since buying the Ring Video Doorbell 2, I have not looked back.
Reasons why it is functional.
You can see your visitor before you answer the door
You can rearrange any deliveries while you are out by using the app
Easy access to videos taken by the doorbell
How do I have it set up?
Linked to my Echo Show
Blinks my lights when I have a visitor at night
Announces on all Echo devices when I have a visitor
Alerts my phone when I have a visitor
---
Security Camera
I do not have 1 security cam; I have 3! Each is a Ring Stick-Up Cam because I have already bought into the Ring ecosystem.
I take security very seriously. There is nothing more important to me than my family. For that reason, I have all angles of my home covered. Security cameras are an excellent way of recording any strange activity around your home, and they are also excellent at deterring crime.
In fact, 50% of burglaries are the result of an opportunistic burglar. A CCTV system would have prevented at least 50% of burglaries from happening! That is a good enough reason for me.
Reasons why it is useful.
Linked to my Echo Show
Included in the Ring ecosystem
How do I have it set up?
3 camera system, covering the whole house exterior
Linked up to Echo Show
Alerts come through to my phone
---
Lighting System
Philips Hue is the go-to lighting system for my home. There are tons of cheaper options out there, but at the moment, there is no total lighting solution that Philips Hues has.
I have tried the cheaper bulbs, and they work well, but they are difficult to link up with each other to work as well as Philips Hue does.
It isn't just the simplistic way these are set up, it is the little things, like being able to pick a photo, and my Hue Play Bars will pick a couple of colors to display from the photograph. So if you want to chill with a sunset color scheme, ask!
Reasons why it is useful.
You can turn it on and off using your voice (and Alexa/Google Home)
Settings can help with jet lag
Color changes can help with concentration
Perfect for waking up to
Excellent for parties
How do I have it set up?
Bulbs in the bedroom, living room, kitchen, and landing
Play Bars in the kitchen, bedroom, and living room
Bedroom lights are set to change to mimic natural sunlight progressively
The landing light is set to switch on at a specific time of the morning, depending on the time of the year
---
Home Assistant
My house has a combination of Alexa and Google Home, just because I want to test both of them…
Both options have positives and negatives. I wouldn't say I like when one refuses to connect to a product of the others just because they compete with each other. Come on, guys, sort yourselves out! So the customer comes first, right?
Reasons why it is useful.
Voice control everything compatible.
Ask anything in any room. One of them will hear you.
Knowledge at your fingertips.
How do I have it set up?
Echo Show in the kitchen
Echo dot in the garage (for workout music!)
Google Home in the bedroom
Google Mini/Echo Dots are scattered around the house.
All are linked to all smart home items – except Google/Ring; it just doesn't work. So I guess they are too competitive.
---
Smart Robot Hoover
There has been an explosion in the use of these robot hoovers over the last few years, and it is straightforward to see why!
My hoover sits on its charging mat until it is time to move. Then, it spends some time vacuuming before getting back onto the charging point.
Reasons why it is useful.
Set and forget
Hoovers, when you are out of the house – come home to a clean floor!
Can work with Alexa/Google Home
How do I have it set up?
Set to hoover 1 time each day
Recharges when finished
---
Smart Thermostat
I have saved so much money by using a smart thermostat simply because the heating only comes when someone is close to the house!
Smart thermostats can be a challenge to fit, but it is worth it.
Reasons why it is useful
Save money
Warm the house up before you get it
Easy to use
Works depending on the outside temperature too
Fully automated
How do I have it set up?
During the cold months, it comes on when I am near the house
The temperature is lowered automatically for nights
It adjusts the temperature depending on the weather
---
IFTTT
Ok, so IFTTT is not necessarily a smart home item, but it can be the glue that binds it all together! There are tons and tons of recipes that you can use.
Do you want to turn your lights on at night when your Uber arrives? It can do that!

Want a text when you are out of the house and your Wyze cam pics up motion? It can do that too!
Reasons why it is useful.
Take a look through the recipes on the IFTTT website to answer that!
How do I have it set up?
Log each time I get home into google docs.
Announce on Google home if I get a visitor to the door
Too many more to list here!
---
Smart Plugs
There are always smart plugs for items that are not smart home technology!
Sometimes, you want an everyday household item to work with the likes of Alexa and Google Home. You can link these up by having smart plugs to control devices.
I used to fill the coffee machine up before bed and switch it on but leave the plug socket off. Then, when my alarm woke me up, I used IFTTT to switch the smart plug on, and the coffee was ready shortly afterward!
Reasons why it is useful.
Make any household electrical item into smart tech!
How do I have it set up?
Smart plug for a heater/cooler in the garage for my workouts
Plug for lamps that do not yet have Philips Hue bulbs in
---
Smoke and Carbon Monoxide Detector
I don't need to show you the benefits of using these, do I?
The alarms are vital for your home, but how do you hear them if you are not at home? What if you are out and a fire starts? You would want to know about it, wouldn't you?
Reasons why it is useful.
Know about any fires at home while you are out
Safety for your family
How do I have it set up?
To alert my phone if an alarm is triggered
---
Garage Door Opener
This one speaks for itself! If I am in the car, wouldn't it be awesome to have the garage door open as I pull up to it? Well, you can, with a smart garage door opener.
These work by using an app on your phone which picks up your position via GPS. If you are close, the door opens.
Reasons why it is useful
It opens the garage door, ready for your return
It stops you from reaching for your remote when you must concentrate on driving.
How do I have it set up?
To open the garage door when I get close enough to my home
---
Conclusion
There you have it, our top 10 smart home tech items. I use each of these items almost daily.
Some offer security for my family and me, and some are awesome because I am either lazy or easily swayed by technology!
Let us know if you have any more items on your list!
Good luck.