Welcome to our wireless doorbell review of the Avantek D-3G!
If you have already looked at our best wireless doorbell page, you will already know that it is a fantastic wireless doorbell if you need it loud or need a long-range solution.
This review will give you details on how loud it is, what the working range is, and it is a good option for those who live in a cold climate?
---
Avantek D-3G Wireless Doorbell Review – Details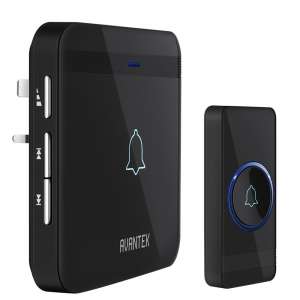 ---
What You Get In The Kit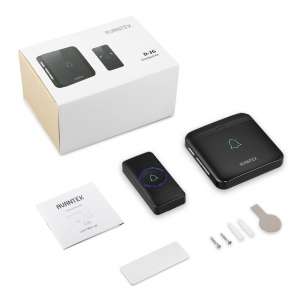 Chime x 1
Transmitter x 1
Manual x 1
Screws x2
Anchors x2
Adhesive
Key x1
---
Avantek utilizes no frequency blocking technology for this model. Consider the environment you are setting this wireless doorbell to work in. If you have many objects in the way, you may want to go for a model with frequency blocking.
Do you live in a cold climate? This model is a good choice for you, as it is IP55 rated against water and dust. It also has a working temperature range of -20 °C-60 °C.
---
Distance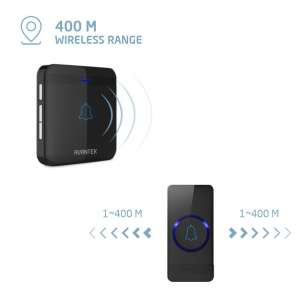 The advertised range for this wireless doorbell is 1300 feet (400 meters), but you must remember that this distance is unobstructed.
It is likely to have a working range of around 50%, depending on the objects you have between the push button and the chime.
The signal can be affected by various objects, including walls, cables, and other electrical items, so bear that in mind if you decide to go for this option.
---
Melodies
There are 52 chimes and 5 volume levels. One of the best options if you need a loud wireless doorbell is that this Avantek can go up to 115dB!
You can also set a different tone for each transmitter if you add more, which means you know which button has been pressed just by the chime!
---
Weather Proof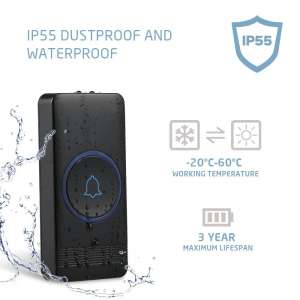 This Avantek D-3G wireless doorbell is rated IP55 against water and dust.
IP55 means that it is protected against low-pressure water jets from any direction, which basically means you can use it out in the rain without fear of it breaking!
In terms of the operating temperature, the Avantek D-3G wireless doorbell will operate within the ranges of -20 to 60. That is plenty big enough for most countries!
This is one of the best weatherproof wireless doorbells you can buy!
---
Installation
The installation of many wireless doorbells is easy. You can either screw them in or use the adhesive strips that are part of the wireless doorbell kit for the pushbuttons.
The Avantek D-3G comes with self-adhesive pads to stick the push button onto the surface, which is a great option if you do not want to drill.
Personally, I like to screw the transmitters in, but the adhesive also works very well.
---
Warranty
Avantek supplies all products with a 12-month warranty and 30-day money-back guarantee, including this wireless doorbell!
Support is excellent! You can contact the team on support@claybox.com, and there is a 24 response time for all queries.
Reassurance indeed!
---
Conclusion
As I mentioned above, Avantek seems to pump out some very nice wireless doorbells.
It is a doorbell that fits in with many requirements:
It is loud, it has a long range, it is waterproof, and it looks great.
The Avantek D-3G really is a great option and definitely one to be considered.
Avantek D-3G Wireless Doorbell
Melodies -

96%

Warranty -

87%

Waterproof -

95%

Volume -

98%

Range -

90%
Summary
Avantek is one of the best wireless doorbell producers around at the moment. The D-3G is a great looking wireless doorbell and specifications that make it a great choice for cold weather, long range and an excellent choice for deaf people – it is very loud!