It goes without saying; there is a part of a wireless doorbell that you will put outside. It is called the push button. The push-button is going to be at risk from the elements.
While we have already covered wireless doorbells for cold weather, we did not consider the options for a complete weatherproof wireless doorbell solution.
Until now!
---
This is not just about rain and cold!
When considering a wireless doorbell, many people check the waterproof status and ensure that the wireless doorbell works in low temperatures. This alone does not ensure that you have a fully weatherproof wireless doorbell!
The upper range is just as important as the lower range.
If you are lucky enough to live in a warm climate, you need to have a wireless doorbell that will work in hot weather.
Let's look at the best weatherproof wireless doorbell options in more detail.
---
Best Weatherproof Wireless Doorbells
Coolqiya Wireless Doorbell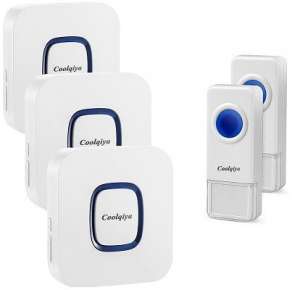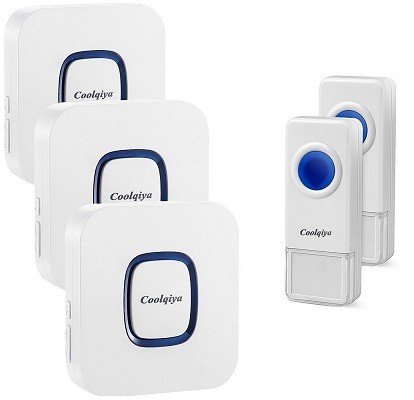 Number 1 is the fantastic Coolqiya Wireless Doorbell, which is the best option if you need a weatherproof wireless doorbell.
The Coolqiya Wireless Doorbell is expandable (up to 10 receivers), waterproof, loud, and has an awesome working range!
More importantly, it has been tested to work in the following temperature range:
-30℃ to 70℃
The Coolqiya Wireless Doorbell is rated IP55 in terms of being waterproof. With both facts in mind, it is the best weatherproof wireless doorbell!
If you are deaf or hard of hearing, the bright LED will alert you to any visitors. A 24-hour customer service team also backs it up, and a 1-year warranty to boot.
Key features include 52 different ringtones (including dogs barking, piano tunes, and the classic 'ding dong'). 4 volume levels, the possibility of working at over 100 feet, and easy expansion to over 10 receivers. The Coolqiya Wireless Doorbell is a highly-rated wireless doorbell at the top of our best wireless doorbell list!
---
Physen Model H1 Wireless Doorbell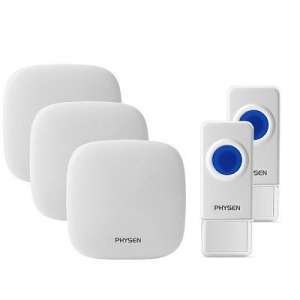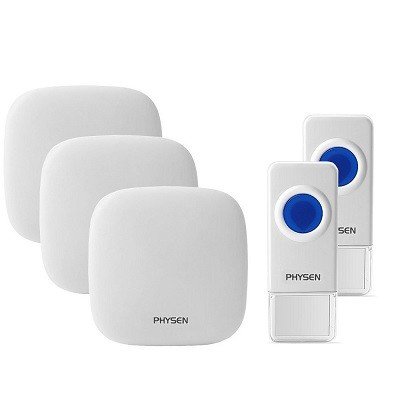 The Physen H1 is the ultimate cold-weather wireless doorbell and a very close 2nd place in this list.
With an operating temperature range of -30℃ to 70℃ and a waterproof rating of IP55, you are covered for all weather conditions, hot or cold!
We love the look of the Physen H1, and although it has some competition (even from other Physen models), it is the best wireless doorbell that Physen produces.
Although the wireless doorbell push button is fundamental, it has one advantage over other doorbells on this page. That small advantage is the ability for visitors to place a note in the clear plastic section at the bottom of the push button. Okay, maybe they will choose to send a text in this day and age, but it is good to have the option. The receiver is minimalistic, which we love, but there are better wireless doorbell options if you are hard of hearing.
There are 52 chimes with the Physen H1, which also works at over 1000 feet.
Not only is the Physen H1 great for cold weather (and hot weather, too!), it holds one of the highest IP ratings for a wireless doorbell, which is IP55.
The unit also comes with a 1-year warranty.
---
Novete Wireless Doorbell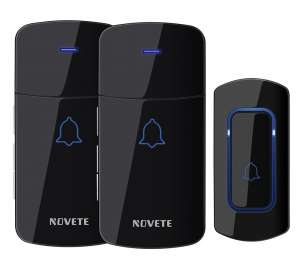 The Novete is quite new to the market, but it had to be on the best wireless doorbell list simply because of its features.
There is no doubt that this is one of the loudest wireless doorbells available, perfect for those who are hard of hearing.
The Novete Wireless Doorbell can hit sounds at 115dB, which I am sure you will agree is more than loud enough.
It is not simply a loud wireless doorbell, though. It is an excellent option if you live in a cold or hot climate. With a working temperature range of -4 °F to 140 °F, it is sure to fit your needs if you are looking to buy a complete weatherproof wireless doorbell.
Regarding the distance, the Novete Wireless Doorbell has been rated with a maximum working range of over 1300 feet. I am not sure about you, but my house was that long, I would probably go for weeks without visiting parts of it! That being said, 1300 feet will surely give you confidence that it will work within the confines of your home.
There is a small LED which is great if you want the volume off (which is also possible with this wireless doorbell). Although the LED is small, you may miss the odd visitor if you do not pay attention.
If you decide to go for the Novete Wireless Doorbell, you will also receive a 100% satisfaction guarantee, which means you can send it back if you are unhappy.
---
Avantek DB-21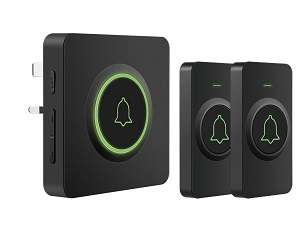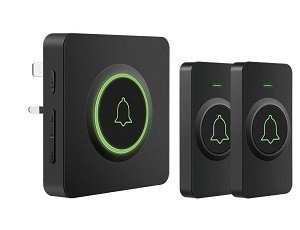 The Avantek DB-21 is a fantastic option if you are looking for a weatherproof wireless doorbell. As we said above, it is IP55 AND rated to work in the temperature range of -20 °C-60 °C. Rain or come shine, the Avantek DB-21 will not let you down!
Similar to the D-3C, the Avantek DB-21 also has the ability to leave your ears ringing at 115dB, making it a great choice if you need a loud wireless doorbell.
Avantek has made some tremendous wireless doorbells, and the features are very much the same as all the other models. It is loud (115dB), weatherproof (IP55 and working temperature range of -20 °C-60 °C), and can also work at over 1300 feet!
What we also love about this particular wireless doorbell is the lighted button, which will enable your visitors to know that the wireless doorbell is working, even if they cannot hear it! If you crank the volume up to the maximum, they will not have a choice BUT to hear it! It is LOUD!
---
Avantek D-3B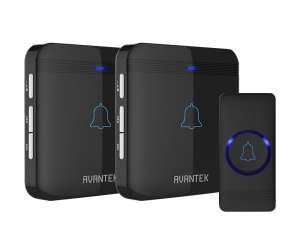 Avantek has made the Avantek D-3B IP55 rated for weatherproofing, and the push button can work within a temperature range of -20 °C-60 °C. Everything is covered from a weather perspective, cold or hot, rain or shine!
The Avantek D-3B is the best loud wireless doorbell, reaching a volume of 115dB! Trust me, that is more than loud enough!
The sleek, black Avantek D-3B is a great-looking wireless doorbell and one of the loudest we have heard!
Not only is the Avantek D-3B loud, but it is also rated IP55 waterproof and has an operating range of over 1300 feet.
Here is a run-down; 52 chimes, 5 volume levels, and an operating range of over 1300 feet. It also has a memory function that keeps your settings in the event of a power cut.
Avantek makes some of the best wireless doorbells, and they have other options available in different colors.
---
Conclusion
I am sure you will find a weatherproof wireless doorbell on this page that you like! You can be sure that we have looked at the rating for each wireless doorbell. We have reviewed and considered weatherproofing functionality before completing this post.
There are only 2 things you need to consider when looking for a weatherproof wireless doorbell; the IP rating and the operating temperature range. The IP rating specifies the wireless doorbell's waterproof (and dustproof).
Ensure the working temperature range fits in with your climate, hot or cold. Arid or wet!
Good luck with whichever option you choose! Please contact us or leave a comment below if you have any questions.
Check out our favorite wireless doorbell options too.