Wireless doorbells, by design, are more portable than wired solutions. But what if you wanted to make it even more portable? For that, you need a portable doorbell with battery power.
This post looks at the best portable wireless doorbell options with battery-powered receivers.
We recommend…
Honeywell Series 9 Portable Wireless Doorbell
The Honeywell series 9 is totally portable and looks awesome too!
---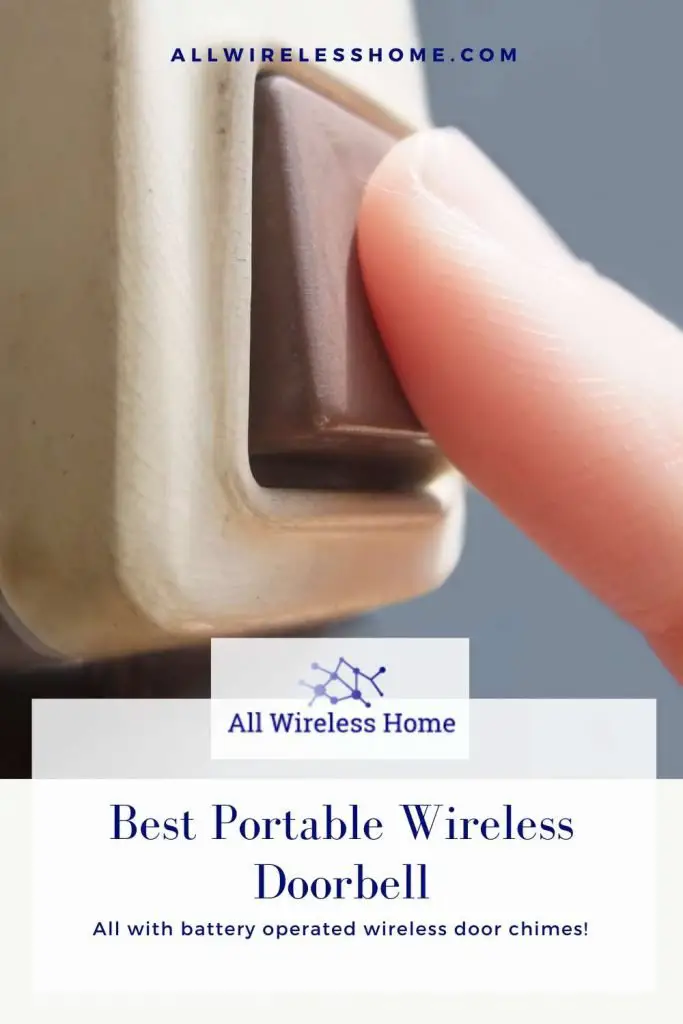 ---
Best Portable Wireless Doorbell Options
Honeywell Series 9
Honeywell produces some of the finest doorbells, and series 9 is no different.
We are looking at the portability of this option here, and the fact that it has a battery-powered receiver means it is portable.
The Series 9 can work up to 450 feet from the transmitter and comes with a wall mount or free-standing.
The unique selling point of the Series 9 is that you can add your own MP3 to the receiver and use it as the chime when you have a visitor! That is not a common feature of wireless doorbells, but they are welcome on the Series 9.
Another great feature is the brightly lit halo around the edge of the receiver. If you are hearing impaired, this doorbell is a good option.
In terms of being expandable, the Series 9 can have up to 6 transmitters attached to it. These can be extra push buttons, door contacts, or motion sensors.
Ultimately, if you are looking for a battery-operated wireless doorbell, then this should definitely be shortlisted!
---
1byone Easy Chime
That's easy. You need to be searching for battery-powered or portable wireless doorbells.
There are plenty of options out there for you!
1byone is one of the best wireless doorbell producers at the moment. They are selling tons of them on Amazon, for a good reason too!
It is so easy to find a 1byone doorbell with excellent reviews. Here we are looking at portable options, and would you believe they have this covered…
Look at the 1byone Easy Chime with a battery chime unit. 2 AA batteries power the wireless chime. Unlike their other options, it doesn't need to be plugged into a wall socket. This option will give you total portability. 
The range is 100 meters, 36 CD-quality sounds, and the push button is rated IP44. If you are unsure what that means, look at the post we published about waterproof wireless doorbell options.
If you need extra doorbell receivers, 1byone have you covered here, and you can buy additional push buttons and receivers if you need to.
---
The Ring Video Doorbell
Ring offers a portable doorbell solution. It is so portable that you can speak to your visitors anywhere in the world! Assuming you have good coverage on your mobile device! Although this doesn't have a battery-operated doorbell receiver, it works through the mobile app on your phone and any Alexa-enabled device.
There are two wireless Ring doorbell options:
No, I am not talking about the films here with that weird kid who creeps up the stairs! I am talking about a well-known brand of video doorbells that my strange friend who works in his shed uses!
These are both great (But expensive!) options with apps to communicate with your visitors wherever you are in the world! How is that for portability?
Take a look at both options, and if you have Alexa, then the Ring 2 is certified by Amazon to work with her!
Both the Ring and the Ring 2 wireless doorbells have lifetime theft protection too. When you spend a lot of cash on a wireless doorbell, it is reassuring to know that you are covered if it is stolen, right?
---
Which Portability Options Are There?
I told you about a friend in a previous post about video integration.
He works from home most weekdays.
He turned his garden shed into an office. That means if he needs to be alerted to a visitor, his choices are:
Wireless doorbell with the option of additional chimes (but still long-range)
Extendable wireless doorbell
He has gone for option 4. It is probably the option I would go for too!
He is alerted through an app on his phone, where he can see the visitor and decide whether to make the journey through his house to open the door!
He went for the Ring Wireless Video Doorbell, which lets him let his visitor know he is on his way.
Not only is it an excellent option for his shed-based office, but it is also excellent when he is not at home! He can access the app from anywhere with a fast internet connection and speak to his visitor!
Anyway, this post is not about video integration (We have already covered that!).
It is about portable wireless doorbells!
---
What Makes A Wireless Doorbell Portable
You do not have to plug the chime into a power socket.
They are battery-powered instead.
Having a battery-powered wireless doorbell opens up the portability options.
There is (almost) no limit to where you can put the chime.
It can be taken anywhere…..total portability!
I say total, but you must remember it will only pick up a signal from the transmitter if it remains in the working range!
You can't take it to work 20 miles away and expect to be alerted!
There is an option for that, a video-integrated wireless doorbell!
---
Are There Any Drawbacks For Total Portability?
Sure, there is one glaring drawback!
Remembering to change the batteries.
If you don't have many visitors, they could last a while. Still, if you regularly order random things from the internet ( a couple of deliveries every day!), you must remember to check them every set period (6 months, for instance).
The other issue that you need to consider is the operating range. If you stray outside of the range, then you will begin to see some problems.
If that is the only price you pay for total portability, then I am in!
---
Conclusion
The options above will fit your needs if you need a portable wireless doorbell!
Ultimately, you need a doorbell with battery power, so you can take it with you wherever you travel in your home.
If you need an excellent and cheap option, then the 1byone wireless doorbell is for you. I have a 1byone option. I have 2 of them! 1 for my home and 1 for my son's playhouse! He needed a wireless doorbell with a battery-operated receiver, which was the best option.
You can go for one of the Ring wireless doorbells for extra cash and added integration options.
Portable wireless doorbells are fantastic if you need to carry the doorbell chime around with you, but always ensure you are within the operating range; otherwise, you will begin to see transmission issues.
If you have purchased any of the above, please let us know your opinion, and we would love to hear from you!