There are many reasons you are looking for a loud wireless doorbell, but which ones are the loudest?
Which wireless doorbell will give you the ability to ramp the volume up so you can hear it?
Here is our recommended option:
We recommend…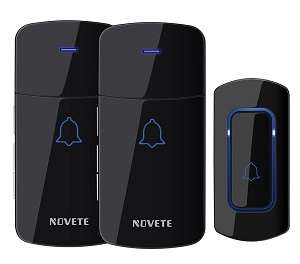 Novete Wireless Doorbell – Very Loud!
The Novete wireless doorbell can hit 115dB at maximum volume! That is more than loud enough.
In this post, we give you the top 5 best loud wireless doorbells, and some even go up to 115dB, which, according to hearingaidknow.com, is the same volume as a rock concert or a leaf blower! (See the infographic below)
---
The 5 Loudest Wireless Doorbell Options
---
Novete Loud Wireless Doorbell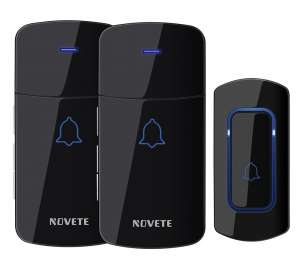 The Novete has a slightly different style to the other push buttons on this page, but we like it!
Like the Avantek options, the Novete is also rated to work at over 1300 feet.
Not only does it have the same distance capabilities, but the Novete also shares the following functionality as the Avanteks:
115dB maximum volume – extra loud wireless doorbell!
IP55 rated push button (awesome waterproof doorbell)
Temperature range of -4 °F to 140 °F
Another great option for long-range and hard-of-hearing (loud receiver – check. LED flash – check!)
The Novete is well worth checking out!
---
Avantek CW-21 Wireless Doorbell
The Avantek CW-21 is another great choice if you need an extra loud wireless doorbell.
It reaches 115dB at maximum volume, but it also has a range of over 1000 feet (if there is nothing in the way). When you have a wireless doorbell that far away, you need the extra volume to hear it!
Rain is not a problem either because the push button is rated IP55, which means you can spray it with water from any angle, and it will not break it. Perfect for heavy rain.
While we are on the subject of weather, the operating temperature range will cover you as the doorbell is rated to work between -20°C and 60°C (-4°F and 140°F).
The Avantek CW-21 has an LED on the front of each chime, which means it is a good option for those who are hard of hearing. Extra volume and a flashing LED? It makes it a PERFECT wireless doorbell for those who are hard of hearing.
In terms of looks, we love the minimalistic look for the CW-21. It is small, compact, and packs one hell of a punch when the volume is at the maximum settings.
---
Avantek DB-21 Wireless Doorbell
The DB-21 is a classic and highly rated, similar to the D3-B.
In terms of features, it is almost the same too. A quick rundown reveals:
IP55 Waterproof push button
Loud wireless doorbell receiver
52 melodies
LED for the hard of hearing
The DB-21 is another excellent, highly rated option if you are looking for a long-range wireless doorbell. It is rated to work at over 1300 feet (without interference), AND you can push the volume up to 115dB, so hearing it will not be a problem!
With a push-button rated at IP55 and works in a temperature range of -4 °F to 140 °F, you can be confident that it will work in hot AND cold climates, with the potential of some hefty rain showers!
---
Crosspoint Loud Wireless Doorbell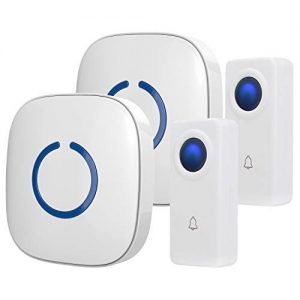 Here we have the Crosspoint wireless doorbell, which has a maximum volume level of 110dB.
Sure, it is not as loud as the top 3 options, but 110dB is loud enough and is still one of the loudest doorbells you can buy.
Outside of the volume, the Crosspoint is an excellent wireless doorbell! The most significant selling point is the ability to expand with other items, including:
Additional receivers
Additional push buttons
Motion sensors
Door sensors
Vibrating receiver
The initial wireless doorbell kit contains 2 receivers and 2 push buttons, which is enough to get you started. If that is all you need, then stick with that, but if you need more, you can easily add additional items.
In terms of being waterproof, the Crosspoint is rated IP44, which we expect within the range.
There are over 50 melodies to choose from, and the operating range is around 500ft (1000ft in the open).
We rate the Crosspoint wireless doorbell very highly.
---
1byone Easy Chime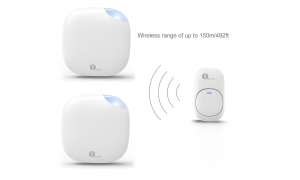 Last in this list of loud wireless doorbells is the 1byone Easy Chime.
We love the 1byone wireless doorbells because they are cheap feature-packed, and you can expand them!
I have a 1byone Easy Chime servicing my front door, which has never let me down.
Why didn't it make it into the top 3, or even 1st? Because the maximum volume is just shy of the Avanteks. Sure, 110dB is likely to be more than enough, but it isn't quite as loud.
It might only (I say only, but it is still loud enough) have a maximum volume of 110dB, but it is undoubtedly one of the best-looking wireless doorbells.
Other features include:
The 1byone Easy Chime is a great and cheap, all-around wireless doorbell.
---
Why you need an extra loud wireless doorbell
Large House
If you have a large house, you need to ensure covered the house in volume. For example, you can go for a wireless doorbell with multiple receivers, but you might also want to stick to a loud wireless doorbell instead.
At 115 dB, you will struggle not to hear the doorbell!
Hard Of Hearing
If you are heard of hearing, you will undoubtedly need some help with volume. You may also want to consider the flashing LED, but a loud maximum volume will help. There are also some options for using a smart doorbell to link up with Alexa. You can do all kinds of superb integration to ensure you do not miss a visitor!
Heavy Sleeper
I wish this were me! If you are a heavy sleeper, you will want a wireless doorbell that is loud enough to wake you up when you have a visitor.
You Have Kids!
This is the reason I am not a heavy sleeper! When you have kids, you do not have much of a chance to hear ANYTHING else that is going on. You will need a loud wireless doorbell if your kids are making too much noise.
---
How A Loud Doorbell Compares To Other Sounds – Infographic
This infographic gives you how loud your wireless doorbell will go! Some options on this page reach 115dB, which is incredibly loud!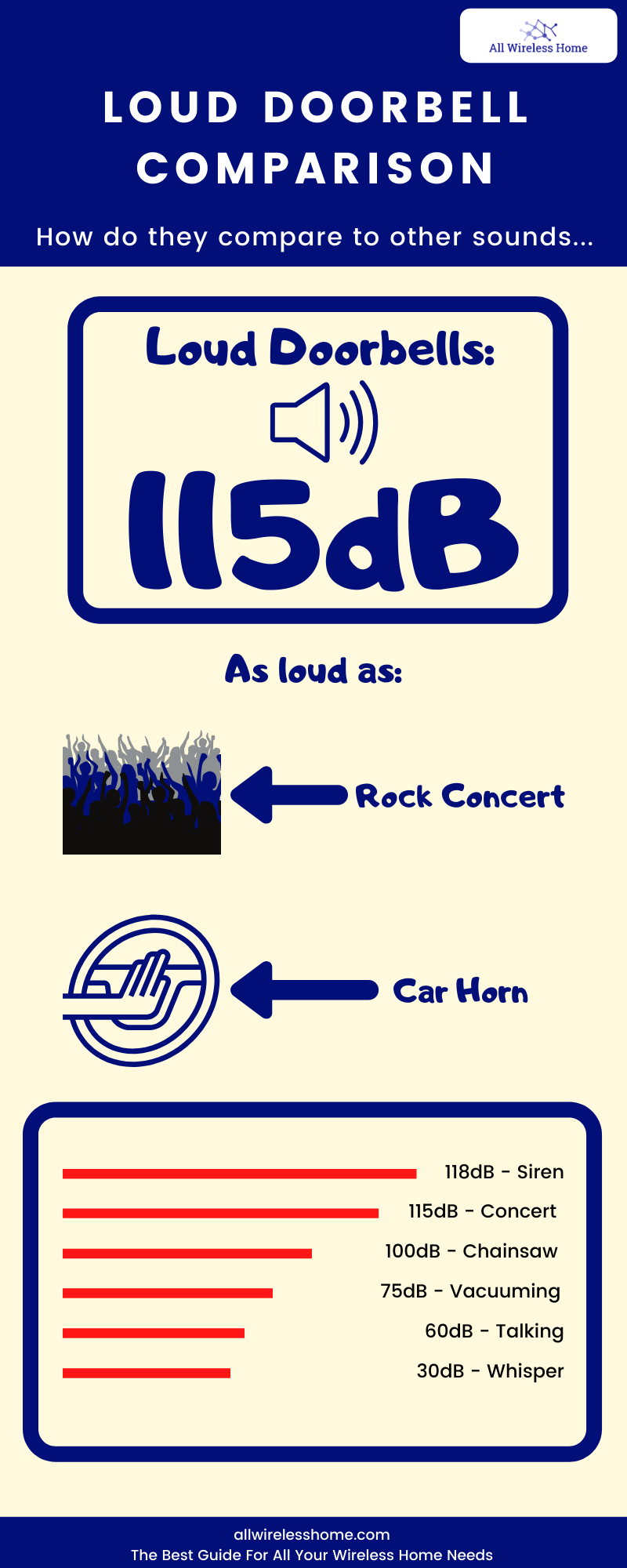 ---
Is there a way to make a doorbell louder?
Yes, there are ways to make a doorbell louder. One way is to purchase a loud wireless doorbell. These doorbells are specifically designed to be loud so that people with hearing impairments can still hear them.
You should also consider buying a doorbell with multiple receivers to hear the chimes a little louder in each room.
---
How do I adjust my doorbell volume?
It is difficult to give you exact instructions without knowing the make and model of your doorbell; however, here is a guide on increasing the volume of your doorbell:
If you find that your loud wireless doorbell is too loud or not loud enough, there are a few ways to adjust the volume.
On the receiver unit:
There is usually a volume control knob or slider on the side or back of the receiver unit. Adjusting this will change the overall volume of the doorbell.
On the transmitter unit:
There may also be a volume control on the transmitter unit. This will generally only affect the volume of the chime, not the actual loudness of the doorbell itself.
In the app:
If you are using a wireless doorbell with an accompanying app, there is likely a way to adjust the volume within the app itself. This is generally the easiest way to make small adjustments to the doorbell's volume.
On your device:
If you are using a loud wireless doorbell with an intercom system or video doorbell, you may be able to adjust the volume on your actual device (phone, tablet, etc.). This is generally found in the settings for that particular device.
---
Can you add more receivers to make your wireless doorbell louder?
You can add additional receivers to your wireless doorbell system to make it louder. By adding more receivers, you will be able to hear your doorbell from a greater distance.
Additionally, you can also adjust the volume on each receiver to make it even louder.
---
Conclusion
In this post are the top 5 loud wireless doorbells. In terms of price, there is something there that suits all budgets.
Think about why you need a loud wireless doorbell, and consider the other product features. If you are hard of hearing, think about an LED. If you have a large house, check if your wireless doorbell is expandable.
You will find many options on our best wireless doorbell page.
Ultimately, if you are after a loud wireless doorbell, we have you covered with this post. These have a maximum volume of up to 115dB. With that in mind, I am sure you will agree that it is more than loud enough, right?
Good luck, and if you have any questions or think we may have missed a wireless doorbell from this page, please get in contact or leave a reply below so we can consider it.