How does your visitor know if your wireless doorbell is working? You could ramp the volume up on a loud wireless doorbell or buy a wireless doorbell with a lighted button!
One sure way to give them confidence that it has worked is to ensure they get a visual indicator that the push button has triggered a signal. The danger is that if you do not answer the door, they may think you are ignoring them!
Before we start – here is a quick overview of the 3 best options.
Wireless Doorbell With Lighted Button – Top 3 Compared
---
Wireless Doorbell
Features
Max Volume: 115dB
Range: 1300ft
Waterproof: IP55 (Good)

View On Amazon

Max Volume: 115dB
Range: 1300ft
Waterproof: IP55 (Good)

View On Amazon

Max Volume: 115dB
Range: 1300ft
Waterproof: IP55 (Good)

View On Amazon
5 Best Wireless Doorbell Options With A Light-Up Push Button
---
Physen Wireless Doorbell
The Physen Wireless Doorbell kit has 3 plugin Chimes that ALL have LED lights that flash when the doorbell is pressed. This is the best wireless doorbell with a lighted button!
Having 3 plugin Chimes will help ensure you do not miss a visitor, as you can plug them into 3 rooms.
It works up to 1000 feet, which is some distance!
This is a classic-looking wireless doorbell with some fantastic functionality. The light-up receiver makes it an excellent choice for hard-of-hearing people, and the lighted push buttons mean your visitors will have confidence that it is working!
---
Novete Long Range Wireless Doorbell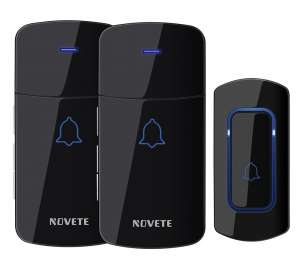 The Novete has a slightly different style from the other push buttons on this page, but we like it! The light is probably the brightest of all the options on this page.
Similar to the Avantek options, the Novete is also rated to work at over 1300 feet.
Not only does it have the same distance capabilities, but the Novete also shares the following functionality as the Avanteks:
115dB maximum volume
IP55-rated push button
Temperature range of -4 °F to 140 °F
Another great option for long-range and hard-of-hearing (loud receiver – check. LED flash – check!)
The Novete is well worth checking out because we rate it very highly!
---
Avantek CW-21
This Avantek wireless doorbell is a great option if you need a wireless doorbell with a light-up button.
We picked the Avantek wireless doorbell because it looks the best and is more up-to-date than the other Avantek options.
Not only does it have a range of over 1000 feet (if there is nothing in the way), you can increase the volume to a maximum of 115dB, which is fantastic because these ultra-long-range doorbells need to be heard too!
Rain is not a problem either because the push button is rated IP55, which means you can spray it with water from any angle, and it will not break it. Perfect for heavy rain.
While we are on the subject of weather, the operating temperature range will cover you as the doorbell is rated to work between -20°C and 60°C (-4°F and 140°F).
The Avantek CW-21 has an LED on each chime, which means it is a good option for hard-of-hearing folks.
---
Govee Wireless Doorbell
This is a great-looking, minimalistic wireless doorbell with some awesome features.
The wireless doorbell pushbutton has a cool blue light that lights up when pressed, and it is rated IP44, which means it can handle rain showers without breaking.
All of the options on this page have wireless doorbells with a light on the button, but this Govee stands out because of the simplistic design of the push button. When pressed, the LED is easy to spot because the rest of the transmitter is white. That makes it very easy to see in the dark too.
In terms of ring tones, the Govee has over 30, and you can hear all of them at a volume of up to 85 dB. It is not the loudest wireless doorbell, but it is loud enough to hear inside a regular size house, that is for sure!
You can place the receivers and push buttons up to 1000 ft apart, which is excellent if you have a large house. It is worth considering the objects between the transmitter and receiver as some (mostly metal items) can cause interference and reduce the operating range.
---
1byone Easy Chime Wireless Doorbell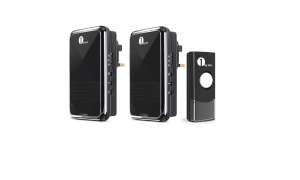 The 1byone Easy Chime wireless doorbell is an excellent choice. It is the wireless doorbell that I have got! I have two options, 1 doorbell for home and the portable 1byone wireless doorbell for my Sons playhouse!
It has a working distance of 300 feet, which equates to 100 meters, which is good for the playhouse and excellent for the home!
The pushbutton is IP44-rated, which means it is waterproof and can be fixed to the doorframe by using the screws of the adhesive tape.
You will get 2 plugin chimes, and both have flashing LED lights when the doorbell is pressed, which is excellent for those with hearing problems.
Backed by a 12-month warranty, you will have confidence that you are covered for any issues.
It is also worth mentioning that you can expand this wireless doorbell option with more buttons and receivers!
---
Conclusion
Each option above is an excellent choice if you want a wireless doorbell with a lighted button.
The options above are some of the best wireless doorbells you can buy full-stop!
It is worth considering all the options on this page because you may like the look of one compared to the other, down to personal choice.
Feel free to check out some of the wireless doorbell reviews we have put together. Some of the doorbells on this page have been reviewed by us already.
Do you have any of the wireless doorbells on this page? What is your opinion? Feel free to touch in touch or leave a message below.