If you are like me, then security is top of your list of the most important things to have for your home!
Where there is insecurity, there is a threat to your possessions, and even a threat to you and your loved ones!
The need for security has been around for thousands of years! Even during medieval times, a kingdom would install security mechanisms. Usually in the form of tower posts and town alarm bells. These units were in place to ensure that its people are safe and protected from any external attack. However, in modern times, technology has changed the mechanism of security systems.
Today, you can receive these alerts using smart-home wireless security devices. You do not have to spend much either! There are many budget security cameras which are up to the task of protecting your home.
There are a lot of benefits to having a wireless security system. We are going to take a look at the top ones right here!
---
Benefits of Having a Wireless Security System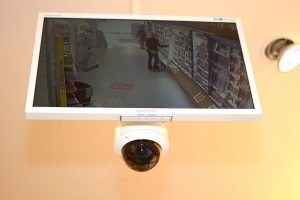 ---
1. Extra Security
With the high rate of burglary cases that have been reported in both the United States and other countries around the world, there is a huge demand for everyone to have a wireless security system installed in their homes.
A report from the Pew Research Center reveals that only about 13% of burglary cases in the United States were solved.
The remaining 87% of burglaries have gone unsolved. 87%!!!
It is fair to say that most of these would be resolved had a wireless security system been installed.
It is not full-time security; rather, it helps in the security process of a particular building, place, or area. Take, for instance, an apartment, office, or house with a CCTV installed as a wireless security system. The CCTV will actually get to inform the security personnel about a possible breach or a suspicious movement in a particular area in the building.
When the wireless security system alerts the security official (which could be you via a smartphone notification) about this, he will then swing into action to handle the situation. This way, the CCTV has provided extra security to the security officials.
---
2. Increased Home Automation
Home automation is not only convenient, but it also offers a greater level of security for your home and family.
Everybody must have a safe place to sleep in at night, right?
With a proper wireless security system installed in the home, it can actually enhance the automation within your home.
With proper home automation, you can reduce the stress of doing many things that will require manual labor. This way, you get to control almost everything with the touch of a finger!
With a proper wireless security system installed in your house, you can get to sit on your couch and monitor your environment. Either via your laptop or smartphone device, depending on the connected devices you have.
This is one of the best ways of increasing your home automation.
---
3. Extra Assurance and Additional Communication
You can be at work and monitor what is happening in his house, which is due to wireless security systems.
Many wireless security devices are targeted at making security easy for people even when they are on the go.
If you have kids at home, you can monitor what they do to ensure their safety. This way, you are given extra assurance that your kids are safe and are not doing anything untoward! The wireless security system can also be a form of additional communication between you and your visitors (2-way talk, for instance).
Take, for instance, you are in your living room, and then a visitor approaches your gate and rings the bell. If you have a video doorbell, you will get to use your smartphone or even Alexa/Google Home to look at the visitor. Thereafter, you can initiate a conversation with the visitor before allowing them to come into your house.
At the end of the conversation, you can easily use the connected automation systems in the wireless security system to open the gate or keep it locked. This saves you a lot of stress of getting up and going to the gate to start up any conversation.
---
4. Evidence Gathering
Law enforcement agencies have embraced wireless security systems. This is because they have been able to solve many cases with the help of wireless security systems.
Take, for instance, burglary or any other crime that occurred in a building. What happens if nobody was around to verify the burglary? How will you know what the offender looked like? A wireless security system (if properly installed in the building) would step up and provide the evidence needed.
With automation, and wireless security system that has been set up to use PIR (used for motion detection) would have captured everything needed to bring the bad guys to justice!
This is one of the benefits of having a wireless security system installed in your home, office, or other public places.
The work of the law enforcement agency is very easy when there is video or photographic evidence, right?
---
5. Extra Deterrents to Would-Be Thieves
Here is another out of the many important benefits of having a wireless security system installed in your building.
Surely, no one would want to take the risk of breaking into a building that has wireless security systems installed!
This is the reason why it is advised that people should install wireless security cameras in their homes.
It is worth noting that most burglars will actively avoid a home if they know it has CCTV cameras. That is the biggest reason I have them installed in my home!
---
6. No Wires!
It goes without saying that one of the major benefits of opting for a wireless security system is that they do not have many (or any) wires!
No wires mean the job of installing each device is made so much easier, right?
---
Conclusion
We have highlighted the biggest benefits of having a wireless security system installed. There are more benefits, but we wanted to highlight the most important!
When you fail to install a wireless security system in your building, you will run the risk of being burgled. Plain and simple.
Without a wireless security system, the subsequent investigation process might take a lot of time. It is also likely to yield a negative result.
Reports carried out on burglary statistics and studies have revealed that about 60% of burglars are easily deterred at the sight of a security system mounted in the house.
Installing a wireless security system in your house makes life very easy for you, and this way, you do not get to pay extra fees for security and protection.
You are informed about the slightest breach of security in your building or apartment. This is an assurance that everything is safe when you get back.
It is worth noting that a wireless security system does not replace the need for a human protection mechanism. As soon as a security breach occurs, it is your job to report it to the relevant authorities.
Good luck!