Deciding what height to put your doorbell button is one thing that I never really thought about until I was holding the button in my hand and staring blankly at the door. Sure, I know how high it needs to be for me to press it, but does that mean it is accessible for all? No, it doesn't… which poses the questions 'what is the best doorbell height so everyone can access it?'
In this post, I will take a look at the 6 things you should think about when considering your doorbell height.
---
What you will learn in this post:
The best height install a wireless doorbell button
Additional considerations for video doorbells
---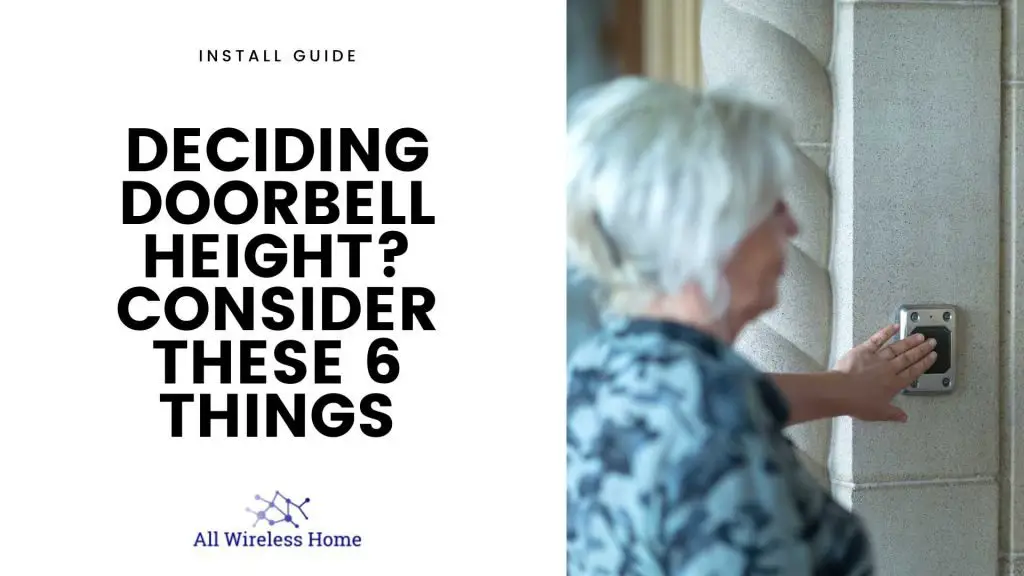 ---
What Is The Standard Doorbell Height?
The standard doorbell height is between 40 and 48 inches. If there is an increased chance of you regularly receiving visitors who will not reach that height, you should consider using the lower height in that range.
Ultimately, 40 to 48 inches is just a guide. The decision for how high you should place your doorbell is entirely up to you.
Just below this paragraph, there are 6 things that you should consider when deciding on the height of your doorbell button. You should use these and decide where to place them.
---
Deciding Doorbell Height? Consider These 6 Things
One of the steps for installing your wireless doorbell is adding the push button to the entrance. When you are installing the push button, you need to consider the height of the doorbell, so it is accessible to all. Whether that is your front door, the entrance to an office, or the wireless doorbell for your warehouse, there are some things that you need to consider before prepping the drill or applying the adhesive.
Let's take a look at my top 6…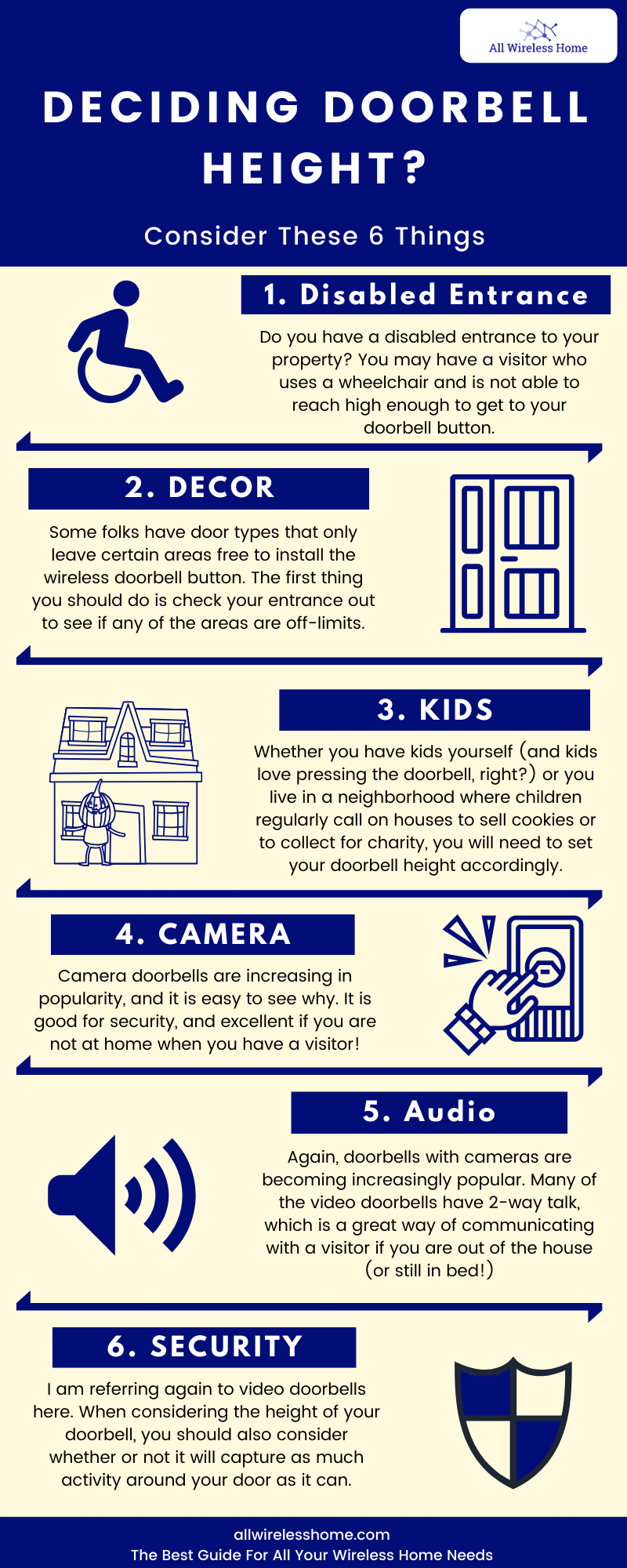 ---
1. Disabled Entrance
Do you have a disabled entrance to your property? You may have a visitor who uses a wheelchair and cannot reach high enough to get to your doorbell button.
There are over 3.6 million people in the US who rely on a wheelchair to travel. It would be best to consider these folks in your decision on what height to place your doorbell button.
---
2. Decor
Some folks have door types that only leave certain areas free to install the wireless doorbell button. The first thing you should do is check your entrance to see if any of the areas are off-limits.
You may not want to drill holes into your fancy front door, which means you will either need to use the adhesive or add the doorbell button to the door frame or the brickwork.
I have a Ring Video Doorbell 2. When I installed that, I didn't want to drill into the door, so I purchased an angled bracket and drilled it onto the brickwork instead.
---
3. Kids
Whether you have kids yourself (and kids love pressing the doorbell, right?) or you live in a neighborhood where children regularly call on houses to sell cookies or to collect for charity, you will need to set your doorbell height accordingly.
Kids love to role-play, and my son loves playing the role of a delivery driver! That means my doorbell battery doesn't last as long as it should, but it is worth it for the fun factor.
Whilst I am on the subject, the role-play has started to reduce now that he has his own doorbell for his playhouse!
---
4. Camera
Camera doorbells are increasing in popularity, and it is easy to see why. It is good for security and excellent if you are not at home when you have a visitor!
It does, however, add consideration when deciding on your doorbell height. You now have to think about the range of coverage for the camera. Do you want to capture more of the sky, or do you want to capture more of the person pressing the doorbell button?
---
5. Audio
Again, doorbells with cameras are becoming increasingly popular. Many of the video doorbells have a 2-way talk feature, which is a great way of communicating with a visitor if you are out of the house (or still in bed!)
If your doorbell is pressed by someone who can only reach the doorbell, they may not be able to get high enough to talk to you or listen to you. It is much easier for someone to bend down than it is for someone to jump up to talk!
---
6. Security
I am referring again to video doorbells here. When considering the height of your doorbell, you should also consider whether or not it will capture as much activity around your door as it can.
At certain height levels, there may be other objects blocking views at certain angles. For instance, a friend of mine installed his video doorbell right next to a hanging basket of flowers. That cut off the left side of the video, which increased the security risk.
Look around your entrance and decide if any object will block some of the video recordings.
---
Best Height To Install Ring Doorbell (1, 2, 3, and Pro)
Your Ring doorbell height should be around 48 inches high. By placing the video doorbell at this height, you are positioning the doorbell at the perfect angle to take advantage of the wide-angle video capture and the PIR sensors.
Of course, you should also consider the 6 things above when deciding the best height for your Ring Doorbell! Whilst 48 inches is the best height; it may not work for you and your entrance.
---
Conclusion
The 6 things considerations on this page will help you when deciding what the best doorbell height is. Ultimately, you have to understand that your doorbell should be accessible to all, and if that is not possible, it has to be accessible to as many people as possible.
Of course, a lot depends on the entrance where you are installing the doorbell button. Some doors, or other entrances, may need you to think on your feet instead of relying on the standard doorbell height. This is where these 6 considerations come from.
Adding the doorbell button is only part of the wireless doorbell installation process. I recommend that you read the full guide for installing a wireless doorbell. That way, you can familiarize yourself with the entire process, including pictures to help.
Check out our favorite wireless doorbell options.
Good luck!