What wireless doorbell options are there for you if you are hearing impaired, or completely deaf? How can a doorbell alert you to a visitor if you are unable to hear the receiver? We put together an article to give you the options available if you are looking for a wireless doorbell for deaf people or those who are hard of hearing.
When you do not have a problem with your hearing, doorbells are just another thing around your house that you take for granted.
Like fire alarms, carbon monoxide alarms and baby monitors, there are many to choose from if you can hear. But what if you are hard of hearing, or even completely deaf?
What then?
Top 3 Wireless Doorbell Options For The Deaf Or Hard Of Hearing
---
---
In the past, I have worked with a training company who provide sign language training and are an established Deaf Community Service. I had a lengthy discussion with the Managing Director at the time because, as I was driving to the training center, I tried to imagine not having my hearing.
I queried what I deemed quite important, such as how do you know when a smoke alarm is going off?
There are two main options:
A Fire alarm with a flashing light
A Fire alarm with a vibrating pager
The option with a light is a good one unless you are asleep! The buzzer is the only way to make them safe.
If you are hearing impaired, or deaf, there are some elements of life that you need to change to keep yourself safe. When I thought of not being able to hear my smoke alarm, I was filled dread! I asked myself 'how do the hearing impaired cope?'
Wireless Doorbells For The Heard Of Hearing
---
Along with increased volume, a wireless flashing doorbell is another option to consider if you are hard of hearing!
You don't have to worry too much about people ringing your doorbell while you are asleep, but if that is something you need, then you can always look at the integration options available.
Then you can set up your wireless doorbell kit to alert you via your mobile phone for instance.
During the review of these doorbells, we mentally put ourselves in a position where we had absolutely no hearing. That way, we were able to consider which product feature we needed to have.
Anyway, here is the 7 wireless doorbells that I would be looking at if I were deaf or hearing impaired.
The 7 Best Wireless Doorbells For The Hard Of Hearing
---
Physen CW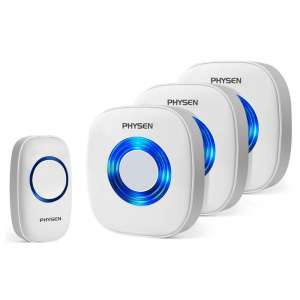 The Physen CW kit comes with 3 plugin Chimes that ALL have LED lights that flash when the doorbell is pressed.
Having 3 plugin Chimes will help to make sure you do not miss a visitor, as you can plug each one into 3 separate rooms!
It works up to 1000 feet, which is some distance!
You can also crank the volume up to 110dB, which makes it one of the best loud doorbells for the hearing impaired!
We rate this Physen model very highly. Not only is it the best doorbell for deaf people, but it is awesome if you are looking for a cold weather doorbell option or even a model with multiple receivers.
---
Coolqiya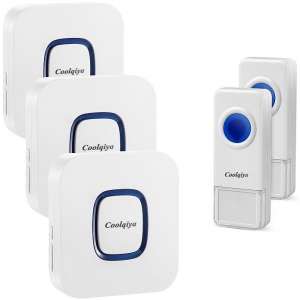 Here is the fantastic Coolqiya option, which is awesome for those who are hard of hearing!
It is one of the best complete wireless doorbells simply because it is the most flexible in terms of what you are likely to need.
If you are deaf or hard of hearing, the big, bright LED will alert you to any visitors.
The doorbell is backed up by a 24-hour customer service team and a 1-year warranty to boot.
Ket features include 52 different ringtones (including dogs barking, piano tunes and the classic 'ding dong'). 4 volume levels, the possibility of working at over 100 feet, easy expansion to over 10 receivers, a working temperature range between -30℃~70℃ and an awesome IP55 waterproof rating!
---
Honeywell Series 9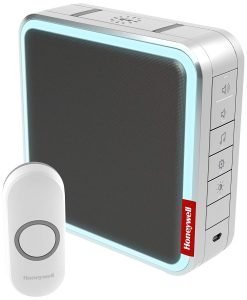 If you are looking for a doorbell for deaf people then you cannot go wrong with this Honeywell series 9 wireless doorbell!
For a start, it has 7 different LED settings which allow you to customize the receiver. But that is not all, the receiver is portable, and also the volume can be turned up to 90dB too, which is within the range that we consider being good enough for those who are hard of hearing.
The portable receiver needs 3 C type batteries, which are not included so you will need to buy those separately.
Although the Honeywell series 9 only has 8 ring tones to choose from, it does have a secret weapon. You can upload any MP3 to the doorbell to use as the ring tone! 
In terms of being a weatherproof wireless doorbell, you are covered here. The push button is fully waterproof and can withstand temperatures in the following range: -4°F to 122°F (-20ºC to 50ºC).
---
Crosspoint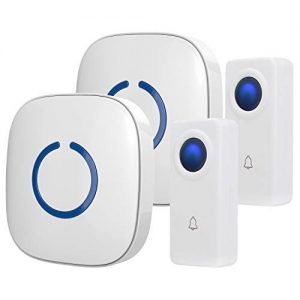 There are three reasons why the Crosspoint is an excellent choice for those who are hearing impaired:
The large LED indicator
110dB Maximum volume
Additional vibrating receiver
The Crosspoint is quickly becoming a favorite of ours, simply because it is an outstanding wireless doorbell!
As we mentioned above, the Crosspoint has a large LED indicator, almost making a full circle on the receiver. The LED is one of the most obvious that we have seen on a wireless doorbell.
The volume can be cranked up to 110dB, which is LOUD! You will never miss a visitor again! This is a great option, but there is one extra additional item that can be purchased that matches this wireless doorbell, and that is a vibrating receiver.
As with most wireless doorbells, the push button is waterproof (they all need to be) and is rated at IP44.
Other product features include an operating range of 500 ft and over 50 different ring tones to choose from.
---
1byone Easy Chime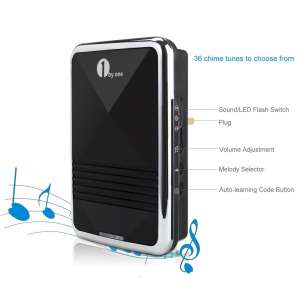 The 1byone Easy Chime in an excellent choice if you suffer from hearing problems!
It has a working distance of 300 feet, which equates to 100 meters.
The push button is IP44 rated, which means it is waterproof and can be fixed to the doorframe by using the screws of the adhesive tape.
You will get 2 plug-in chimes, both have flashing LED lights when the doorbell is pressed, which is great for those with hearing problems.
I have an Easy Chime, with 2 receivers. My Son also has the portable option for his playhouse, and neither has let us down!
Backed up by a 12-month warranty, this is a great choice!
---
Avantek DB-21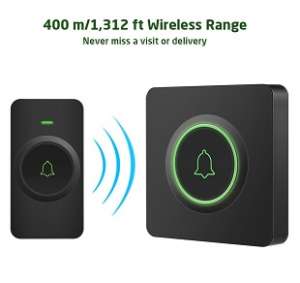 We love the Avantek wireless doorbells, especially the DB-21, but why is it a good option for hearing impaired people?
The answer is simple, it has an obvious LED and a HUGE maximum volume for such a small unit.
At 115dB, the Avantek is one of the loudest we have heard.
The DB-21 has made it onto a few of our lists on this website, simply because it is capable of so much. It is also one of the most reliable wireless doorbells.
In terms of being weatherproof, the push button is rated IP55 and can withstand a temperature range of -4°F to 140°F (-20 °C to 60 °C).
---
Ring Video Doorbell 2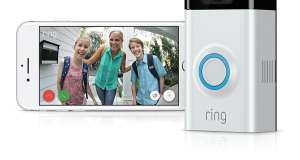 The rest of the options on this page have 2 things in common:
Bright LED
Loud volume
I am sure that you will agree that both of these features are important if you are hard of hearing however, we could not complete this post without offering something slightly different!
The Ring Video Doorbell 2 has something that no other doorbell on this post has. That is the ability to trigger an alert on your phone when the doorbell is pressed. If you have your phone in your pocket, you will feel the vibration and know that someone has just pressed the push button.
Not only can you link the Ring video doorbell 2 to your phones, but it can also link up to Alexa and Google home, which means you can use an application such as IFTTT to perform other actions, such as blink any smart lights that you may have in your home!
If you are deaf or hard of hearing, you can be sure that someone is visiting your home by triggering all kinds of automated processes.
---
Conclusion
These are 7 fantastic options if you are looking for a wireless doorbell for the deaf or for hearing impaired people.
When you are hearing impaired, you need to be aware of any visitors to your house, and each of the options on this page has LED's, which act as a visual notification to the user.
Not only is the flashing LED a great idea to alert you to a visitor, but you also need to look at the maximum volume. When you are looking for a loud doorbell for the hard of hearing, the Physen above is a perfect choice! These options are not simply excellent wireless doorbells for deaf people, but they also need to be considered if you are looking for a doorbell for hearing impaired folks. Whilst they have some hearing ability, it is limited which is why it is very important to check the maximum volume.
You may want to consider a wireless doorbell with multiple receivers to make sure you have some for each room. The Crosspoint wireless doorbell above can have over 20 additional items connected, so it is worth considering that option.
We are also building our list of wireless doorbell reviews, where you can find some excellent choices.
There are many resources online that can help you out if you are deaf or hard of hearing. Also, if you know someone who is deaf or hard of hearing, you can learn to help them out!
If you can think of another option, or you have had a bad experience with any of the options on this page, please get in touch with us by leaving a comment below. We would love to hear from you!