Welcome to another Wireless Doorbell Review! This time, we are going to take a look at the Ring Video Doorbell 2. If you have already looked at our best WiFi doorbell post, you will already know that we rate it very highly.
The reason this is the best option is simple. Although it costs a lot when you compare it to other options, it comes with a lifetime theft protection guarantee! Oh, and it works with Alexa (Amazon Echo)!
Because this wireless doorbell option has the ability to connect to your WiFi, you can download apps for your mobile phone/tablet. It is compatible with iOS, Android, Mac, and Windows 10.
The Ring Video Doorbell 2 is the best-rated video doorbell!
---
Ring Video Wireless Doorbell 2 Review – Details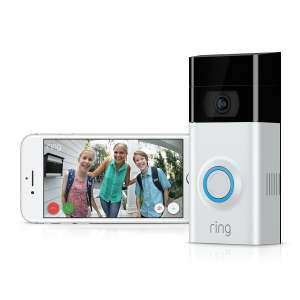 ---
What You Get In The Kit
You will find the following in the Ring 2 kit:
Ring Video Doorbell 2
Quick Release Battery Pack (Rechargeable battery)
Satin Nickel and Venetian Faceplates
Adapter Plate
Wedge and Corner Install Kits
User Manual
Security Sticker
Installation Tools and Screws
---
Camera
The Camera
The Ring Video Doorbell 2 has the best doorbell video camera!
The 160 Degree, 1080p camera is very clear!
You can easily see visitors using the live view functionality, day or night! At night time, the night vision will kick in.
Not only can you see your visitors, but you can also hear them and speak to them using two-way audio. With noise cancellation, it is also very clear!
Motion Sensors
The Ring Video Doorbell 2 has configurable motion sensors that start the camera recording and send an alert to your app (Assuming you have the push notifications set up in the app). This is awesome for additional security! Sign up for the Ring cloud service for video storage. It is a small subscription per month. Details are in the user manual or on the app.
---
Distance
As long as the wireless doorbell unit can communicate with the WiFi router, the distance is limitless!
If you buy the add-on chime, this also connects up to your WiFi, and you can have as many as you want!
---
Melodies
As this links directly to the app on your phone, there are no melodies to choose from.
You can purchase an add-on chime (or multiple chimes if you need them!). These have a small selection of melodies for you to choose from.
If you need an extender, you are covered too! This extender will work for other Ring devices, too, not just the video doorbell.
---
Weather Proof
You can use the Ring Video Doorbell 2 within the following operating conditions:
-5°F to 120°F (-20.5°C to 48.5°C)
Although it does not have an IP rating, Ring has confirmed that this is weatherproof, including rain and freezing temperatures (See above).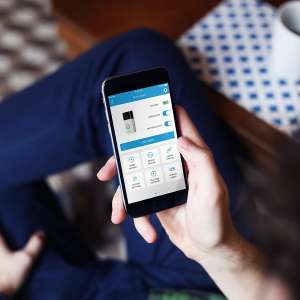 ---
Installation
Installation is easy. Let's start with the dimensions of the wireless doorbell unit:
5.05 in. x 2.50 in. x 1.08 in (12.83cm x 6.35cm x 2.74cm).
Make sure you have enough space when installing. If you are having difficulty finding a spot to install it, you can buy options to have it installed at an angle. This adjustable bracket will work for you.
Install The Ring Video Doorbell App And Set Up Your Doorbell
Before you do any physical installation, you will need to install the application and connect your Ring Video Doorbell 2 to your WiFi.
To find the app, go to ring.com/app on your mobile device. Once this is installed, it will run you through the setup process. Follow the instructions. You will need to know where the setup button is (the Orange button on the rear of the doorbell unit) during the setup.
Ring Video Doorbell 2 Installation
You now need to install the bracket. If you are installing the bracket on a brick wall, you will need to drill some holes first. Anchors (wall plugs) will need to be added to the newly drilled holes before you screw the bracket onto the wall. If you are installing onto a wooden frame, you can screw the bracket if you do not fancy drilling.
As soon as you have the bracket in place and attach the doorbell unit, make sure the screw at the bottom of the doorbell unit is loose.
To attach the doorbell unit to the bracket, you will need to match the clips on the bracket to the holes on the unit. Match these up and push down until you feel a click. As soon as the doorbell unit is secure, you can tighten the security screw (underneath the unit).
Installation complete!
---
Warranty
You get a 1-year warranty for this video doorbell.
Even better, though, is the full-on lifetime theft guarantee! If it gets stolen, they replace it! Free of charge…..total peace of mind. Considering the cost, I am sure you will agree that is a fine offer.
---
Conclusion
This is by far the best-rated video doorbell!
It is a fantastic option if you want to be alerted to a visitor wherever you are. Not only does it have an iOS, Android, Mac, and Windows 10 application, you can also buy an add-on chime if you want an audible alert for when you are at home.
It is a complete solution for a wireless doorbell!
Ring also offers a subscription service for video storage. If you sign up for this, they will store any videos taken from your Ring device on the cloud for you to access from anywhere. That is a great idea for additional security.
Do you own the Ring Video Doorbell 2? What is your opinion? Have we missed anything out? Please contact us or leave a response below.
Ring Video Wireless Doorbell 2
Melodies -

96%

Warranty -

100%

Waterproof -

70%

Volume -

78%

Range -

100%
Summary
The Ring Video Doorbell 2 is an awesome choice! Not only does it let you see and speak to visitors from afar, but you also have a lifetime warranty against theft of the device! When you are spending this much on a wireless doorbell, the warranty is a top idea from Ring!